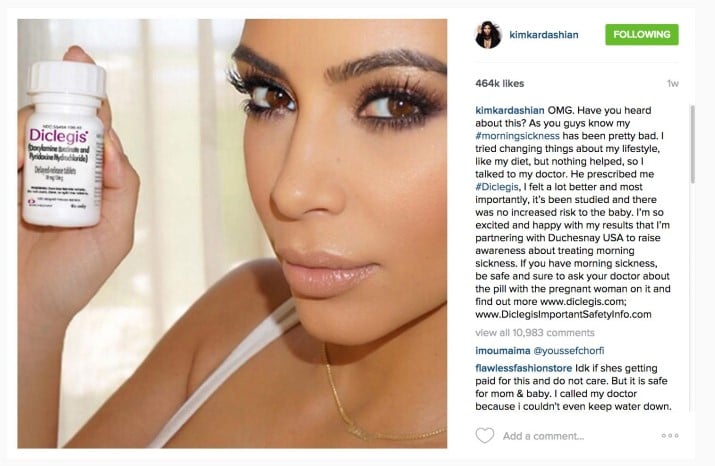 On July 19, 2015, Kim Kardashian posted a "selfie" to her Instagram and Twitter accounts. You may be thinking "She does that all the time… Why would that matter to the FDA?" The selfie in question involves her holding a bottle of Diclegis, an FDA-approved prescription medication for Nausea and Vomiting of Pregnancy (NVP), or morning sickness as most people know it. In addition, the photo also included the following caption:
"OMG. Have you heard about this? As you guys know my #morningsickness has been pretty bad. I tried changing things about my lifestyle, like my diet, but nothing helped, so I talked to my doctor. He prescribed me #Diclegis, and I felt a lot better and most importantly, it's been studied and there was no increased risk to the baby. I'm so excited and happy with my results that I'm partnering with Duchesnay USA to raise awareness about treating morning sickness. If you have morning sickness, be safe and sure to ask your doctor about the pill with the pregnant woman on it and find out more www.diclegis.com; www.DiclegisImportantSafetyInfo.com."
It is not uncommon for celebrities to be paid to endorse products on their social media accounts, and, according to Politico, Kim and her mother, Kris Jenner, who shared the posts on both Twitter and Instagram, were in fact paid for this endorsement (which Kim was thanked for in a press release from Duchesnay). However, the issues arose only after FDA issued a warning letter to Duchesnay, the company that manufacturers Diclegis.
The Warning Letter states that:
"The social media post was also submitted as a complaint to the OPDP Bad Ad Program. The social media post is false or misleading in that it presents efficacy claims for Diclegis, but fails to communicate any risk information associated with its use and it omits material facts. Thus, the social media post misbrands Diclegis within the meaning of the Federal Food, Drug, and Cosmetic Act (FD&C Act) and makes its distribution violative. 21 U.S.C. 352(a), (n); 321(n); 331(a). See 21 CFR 202.1(e)(5). These violations are concerning from a public health perspective because they suggest that Diclegis is safer than has been demonstrated."
The FDA has instructed Duchesnay to remove the posts from the Internet, saying these are very troubling. They also state that should the company fails to correct the violations, it "may result in FDA regulatory action, including seizure or injunction, without further notice."
We know how challenging it can be to stay on top of all of FDA's rules and regulations regarding the advertisement of your products. That is why we are here to help! We have helped a number of companies comply with ad rules and ensure that they are only promoting their products in ways FDA will accept. To find out how we can help you comply with FDA's rules and regulations or to learn more about our services, contact us today.