Gender Pay Gap Report: 2021
Who We Are
ProPharma is an industry-leading, single-source provider for regulatory compliance, pharmacovigilance, and medical information services across the full development lifecycle for pharmaceutical, biotechnology, and medical device companies. We help to ensure regulatory expectations are met, business goals are achieved, and patient health and safety is improved.
We operate around the world with offices in the United States, Canada, Australia, Japan, India, Germany, Sweden, the Netherlands, Ireland and the United Kingdom, which allows us to offer our clients a fully integrated comprehensive suite of global support services.
The UK business, ProPharma Group MIS Limited, is the only company within the Group required to report on the gender pay gap.
What We Have to Report
This is the fourth year since new legislation was introduced in the UK in 2017 that requires companies with more than 250 employees to publish data about their gender pay gap.
The gender pay gap is calculated as the difference between average hourly earnings (excluding overtime) of men and women as a proportion of average hourly earnings (excluding overtime) of men's earnings. This measure does not take into account equal pay for equal work.
On the snapshot date of 5th April 2021, ProPharma Group MIS Ltd employed 399 employees, 18.42% were male and 81.57% were female. For the purposes of this report, there were 323 relevant employees; 23.83% were male and 76.16% were female. 17.64% of relevant employees worked on a part-time basis, of which 92.98% were female and 7.01% were male.
We were asked to provide two types of data, Mean and Median, and you can see this terminology in the tables below. For the purposes of the report "Mean" is the average pay rate for all males versus all females and "Median" is the pay rate of the middle ranking man versus the pay rate of the middle ranking woman.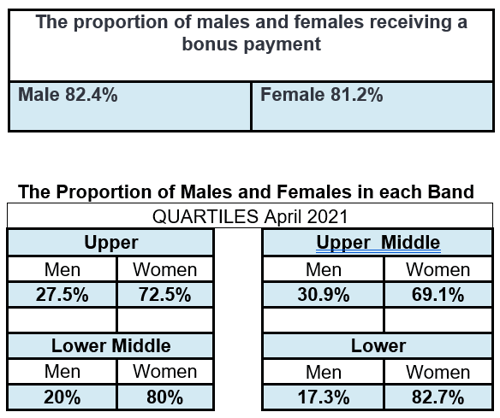 The Analysis and Our Commitment to Gender Pay Equality
ProPharma Group MIS Ltd has a significantly higher percentage of female employees than male employees across all levels of the business, which explains the high female percentage in all quartiles.
Our median gender pay gap is 6.9 compared to 2.6 last reporting period. This denotes that men earn 6.9% more on average than women. Our mean gender pay gap is 10% compared to 4% last reporting period.
The distribution of bonuses paid during the reporting period was equally weighted between males and females. Bonuses were pad to all staff regardless of gender as long as they met the qualifying criteria.
Within ProPharma 81% of our workforce is made up of females we employ a significantly higher proportion of females in senior management and director roles. We are proud of our family friendly policies and many men and women have taken advantage of our flexible working opportunities. We believe this flexible working culture has enabled our predominantly female employee workforce to continue to progress throughout their career, and to maintain a positive work/life balance while not being held back by a rigid working week. This is demonstrated through 26.25% of the Upper Quartile employees working part time hours.
ProPharma Group MIS Ltd is committed to providing a workplace where we recognise the skills and experience of our employees and an environment that provides opportunities to support both personal and professional growth. Central to this is our aim of rewarding colleagues proportional to their contributions to the Company's success.
We will, at all times conduct our business with integrity and be a company colleagues are proud to be part of.
I confirm that the calculations, data, and analysis contained in this report are accurate and that the methodology provided in the Equality Act 2010 (Gender Pay Gap Information) Regulations 2017 has been applied correctly.

Rachel Bias
Chief Human Resources Officer