ProPharma Group has launched a "Meet the Expert" series introducing you to our experts from around the world. This series will help you get to know who we are, and how our colleagues work to support clients' complex challenges throughout the complete product lifecycle.
Meet the Expert: Dr. Borja López Pérez, Regulatory Affairs Consultant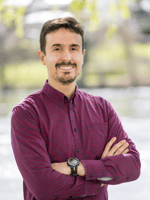 Tell us about a day in the life of a Regulatory Affairs Consultant.
Since Regulatory Affairs have several areas of expertise, consultants tend to specialize in certain areas. In my case, my expertise lies in CMC (chemistry, manufacturing and control). On a regular basis, I assure regulatory compliance in the manufacturing process of both API and drug product for our clients. Currently, I am involved in several post-marketing projects, classifying and submitting variations.
What are current trends you're seeing in the industry?
Cell and gene therapies are a fast-growing trend in the pharma industry right now. The progress made in the last decade is impressive but I am expecting more of these therapies approved in the coming years. Health authorities are still adapting to this new scenario and we foresee changes in the regulatory framework in the near future. Therefore, it is of high importance that ProPharma Group and our clients keep pace with the ever-evolving regulatory landscape.
What is your number one goal right now?
My main goal at this moment is assuring that our clients submit a high-quality Nitrosamines Risk Assessment to the health authorities. Since the scope of the call has expanded from the sartan family to all chemically synthesized APIs, this is a challenging task for many companies. All manufacturing processes need to be considered in order to assure quality and ultimately patient safety.
Tell us a little bit about yourself outside of work.
I like travelling, nature and animals. If I can combine all in one, it is the perfect plan! At home, I spend some of my time watching independent movies. However, what I enjoy the most is having fun with my 2-year-old daughter, my wife and my two beautiful British short-hair cats.
Why are you proud to work at ProPharma Group?
I find working with people from so many different nationalities and backgrounds very enriching and exciting. Helping clients in projects that really can make a difference for patients is very fulfilling as well.