ProPharma Group has launched a "Meet the Expert" series introducing you to our experts from around the world. This series will help you get to know who we are, and how our colleagues work to support clients' complex challenges throughout the complete product lifecycle.
Meet the Expert: Hannah Hunter, Director, Medical Information EU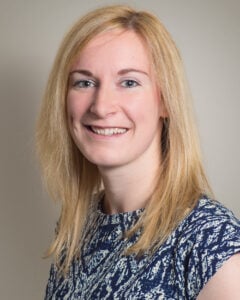 Can you tell us what you do?
I am the Director of Medical Information EU based in ProPharma Group's UK office in Richmond. My role ensures the effective day to day running of the Medical Information Department – we need to ensure that we have highly skilled staff covering our Medical Information services across all the languages we cover in Europe. We need to ensure that we handle all enquiries quickly in the local language so that we provide a first-class medical information service on behalf of our clients. Our clients outsource to us to ensure that customers get the same quality service no matter where they call from – we need to ensure a doctor in Russia gets the exact same level of service as one in Germany for example. The best part of our job is knowing we help people – all staff at ProPharma Group work together to ensure we can answer enquiries from customers on medications. This could be a healthcare professional with an interaction question or a patient who is unsure how to take their medication – we are here to help them, and we do, every day. That is so rewarding.
What do you like best about working with clients?
I love being able to provide a first-class medical information service to support our clients. It is rewarding being able to support our clients and leverage our knowledge from across the globe on the best way to provide a gold standard medical information service. Building relationships with our clients is really rewarding – we have services where we have been working with clients for years – we understand their requirements and the best way to support them. As a client focused company, we are also able to be flexible to support our evolving client needs – things move fast in the world of Medical Information and so does ProPharma Group!
What are the biggest challenges on the horizon for our industry?
Legislation changes – these can have huge implications on our industry and often have little warning before they require implementation.
Tell us a little bit about yourself outside of work.
I live in the beautiful area of Teesdale in County Durham – I am very lucky to live on a farm so have a view of grazing sheep in front of the River Tees when I wake up each day. My spare time is filled with looking after my son, walking my dog and trying to squeeze in the occasional run – I really enjoy running in the great outdoors, I have managed to do a few half marathons, but currently a little less than that is my limit!
Why are you proud to work at ProPharma Group?
The people. ProPharma Group staff are so hard working and dedicated. We are a very varied bunch, originating from all around the world, but we all strive for the same goal – to provide the best possible medical information service. We work hard. But we also have fun doing it and that is critical. Being able to enjoy what you do is vital.