Implementing and maintaining a Quality System is a complex challenge. It is as much as an art as it is a science. A company's Quality System establishes the framework to manage and maintain compliance with current Good Manufacturing Practices (cGMP) requirements. The Quality System is a formalized structure that defines the rolls and responsibilities of management and employees as they relate to quality. This structure outlines the processes, procedures and resources needed to fulfill product and service requirements, regulatory expectations, customer satisfaction, and creates an environment that promotes continuous improvement.
Start-up firms can utilize ProPharma Group's compliance services to develop quality systems that include Validation Master Plans and Standard Operating Procedures (SOPs) necessary to implement the framework of their quality program.
Established companies come to ProPharma Group to help optimize their procedures to reflect best industry practice or regulatory expectations.
One of the challenges comes with maintaining compliance with that little "c" in cGMP. Staying current with regulations, industry standards, and customer expectations is an ongoing continuum. A continuum of understanding your processes, learning from them, and reapplying that knowledge back into the process. Continuous improvement is integral with industry's and FDA's current way of thinking.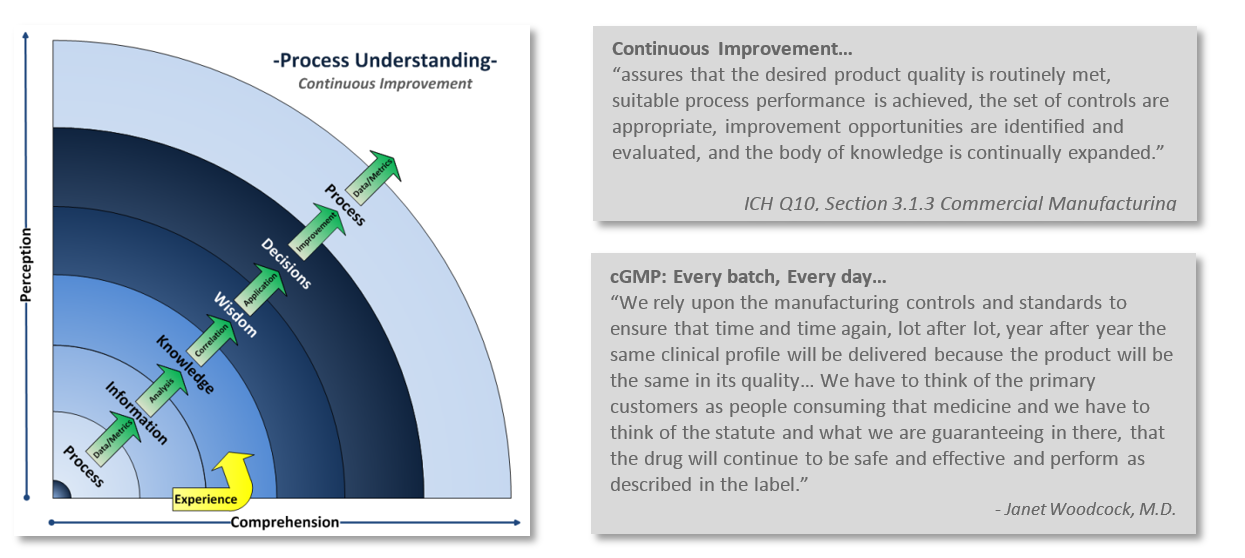 Is your Quality System keeping up? How can you tell? Take a look at your company's Quality output. Are you constantly in "firefighting mode," do you issue more deviations than you are closing? Are you struggling with meeting CAPA commitment deadlines? Do you dread audits and inspections? Perhaps your once strong Quality System wasn't up to the challenge of adapting with the ever increasing demands of current practices and expectations?
If this sounds like your company, we'd like to hear from you. Your company doesn't need to face this challenge alone!
---
Learn more about ProPharma Group's Compliance services.
Contact us to get in touch with our subject matter experts for a customized presentation.