CAPA is not a difficult concept, so why do many companies have difficulty managing it?: If keeping up with CAPA is a challenge for your company's cGMP quality system, I hope that this article provides you with a new understanding of CAPA and leaves you armed with a few tricks that I have seen work well with sustained management.
From discussions with other ProPharma colleagues, I have noticed a recurring theme in the pharmaceutical industry regarding the difficulty in managing CAPA, and I would like to share some of my firsthand experience on how to effectively manage CAPA, without allowing it to manage you.
What Is CAPA?
Simply put, CAPA is an acronym for Corrective Action / Preventive Action. Per the FDA's "Guidance for Industry: Quality System Approach to Pharmaceutical cGMP Regulations," it is a concept that focuses on investigating, understanding, and correcting discrepancies, while preventing a recurrence of undesired issues.
Corrective Action: The immediate implementation of a solution(s) resulting in the reduction or elimination of an identified problem or quality system failure. Corrective actions are the first steps that are implemented, immediate reactions, and are usually isolated to that single situation.
For example, equipment repair, document amendment, process inspection, and/or product rejection.
Preventive Action: The measures taken to prevent the recurrence of the incident. These are the long-term fixes. Preventative actions should be broad enough to prevent failures similar in nature that have not yet occurred.
For example, training, equipment modification, procedural creation/revisions, and/or process modifications.
How Is CAPA Generated?
Part of understanding CAPA is understanding how it is derived. In the cGMP world, CAPA typically originates as an outcome from an unforeseen event, documentation oversight, or incidents of failure. Typically, CAPA is initiated in response to correct or prevent an error. Figure 1 illustrates a simple process flow for how CAPA can be generated.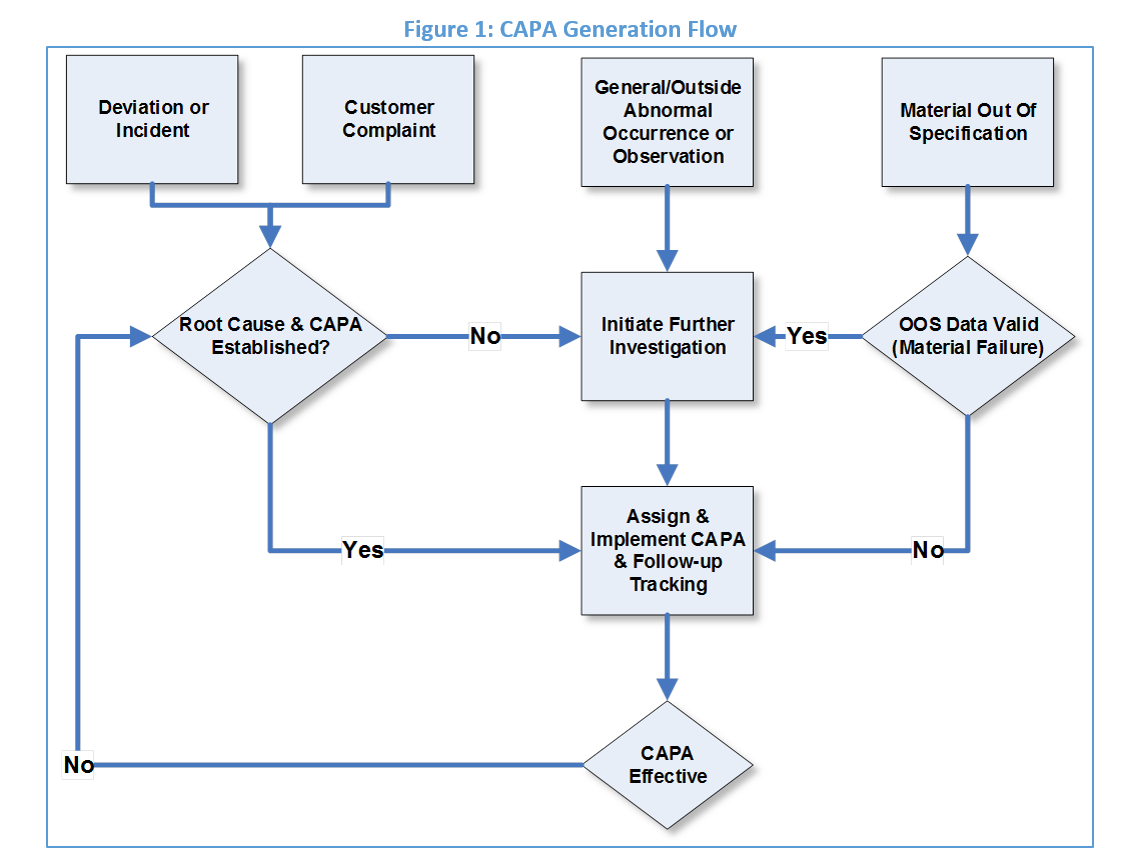 CAPA is not a difficult concept, so why do many companies have difficulty managing it? (con't): For example, CAPA can be initiated as a response to the following situations:
Deviation investigation
OOS investigation
Audit observation (internal audit, customer audit, regulatory inspection)
Process improvement need
Customer complaint investigation
Adverse drug event
Ineffective CAPA previously assigned
The majority of CAPAs that I encounter are those that result from occurrences of simple errors:
Documentation errors
Personnel errors in following procedures
Why Do Errors Occur?
This simple optical illusion (Figure 2) provides a good visualization of how many errors occur. It emphasizes how there can be more than one way to perceive the same thing.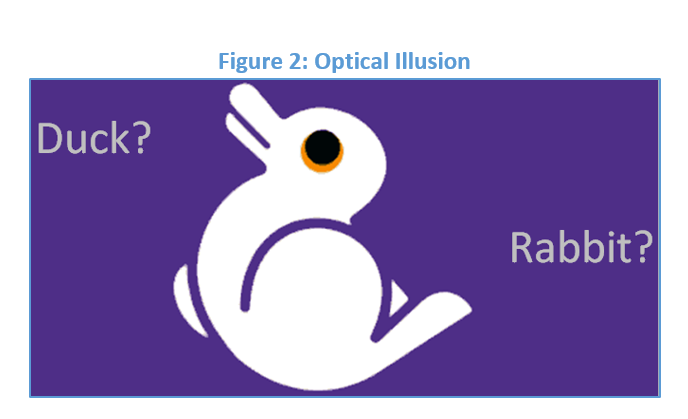 When creating your quality documents, instructions, directives, etc., ensure that they are clear and concise. For instance, use complete sentences that are non-ambiguous when writing a work instruction to avoid confusion or misinterpretation.
For example, the Hood filter to be changed bi-monthly—is that twice a month? Every two months?
Understanding how CAPA is generated is crucial in understating how to prevent the cause of one in the first place.
Importance of CAPA:
Another key factor in managing CAPA is understanding its necessity. The following are some of the reasons highlighting the importance of CAPA:
21 CFR regulatory requirement
An expected platform for maintaining GMP compliance
Effective CAPA can lead to system and process improvements
Can help prevent a systemic problem from evolving
Improves the overall awareness of a quality system, which leads to better adherence to procedures and regulations
Effective CAPA can reduce operating costs from lost time and product as a result of errors
Appreciating the importance of CAPA may promote better systems upstream, thus preventing unnecessary CAPA downstream.
How to Get Unburied:
Hopefully by now you have an improved understanding and appreciation in the important role that CAPA plays. So what do you do if you are already bogged down in overdue CAPA? I like to begin with a review of the data trends to determine if any patterns emerge. Does anything stand out? Is there a particular system, procedure, or piece of equipment frequently involved? This activity can lead to a starting point.
In many cases, I find that the department(s) that do stand out as primary sources of open CAPAs do so not because the department personnel are lazy, quite the opposite, but because in most cases the department personnel are too busy working on the day-to-day priorities and can't devote quality time upfront to addressing a problem fully.
In this fast paced environment, I like to implement a four-part approach that has proven successful in managing CAPA. That approach is summarized by the following:
Awareness
Create and present CAPA metrics at the beginning of routine management or operation meetings.
Management Support
Emphasize the importance from the top down. Lack of CAPA compliance is a pack leader of cited FDA 483 observations. Avoiding an observation is an easy concept for management to understand, and preventing issues can save the company time and money.
Consolidate
Are there multiple CAPAs that are similar in nature? Can any of these be closed together with a common fix?
Suspend/Inactivate
Are there documents that can be inactivated to close out the CAPA? Perhaps documents that are obsolete or seldom used? This can have immediate reduction results. With the document out of service, the problem cannot be repeated. This can eliminate "wasted effort" on revising documents that may never be utilized again. This forces correction prior to use, preventing an accidental reoccurrence.
Performing these four steps can yield immediate and noticeable results in CAPA management and number reduction.
How to Sustain CAPA Management:
Once your CAPA numbers are reduced, you will want to maintain the momentum gained by your efforts. The following are some things that I have seen work well in sustaining a manageable and compliant level of CAPA:
Incorporate CAPA into employee goals, e.g., your facility maintains an average of fewer than five overdue CAPA.
Make CAPA management someone's responsibility; assign someone as a CAPA coordinator.
Assign "smart" CAPAs to begin with, i.e., don't assign a CAPA to re-train an employee, just train them at the time.
Use the email "cc" function and keep open CAPAs visible to department supervisors. This will help entice an individual to close a CAPA and stay below radar.
Keep up the routine reporting of open and past due CAPAs at management meetings.
Apply real fixes; take the time to rewrite a confusing SOP for clarity.
Take the time to find address all root causes.
CAPA is not a difficult concept - Summary:
CAPA is an integral part of a healthy cGMP quality management system; it is used to help drive improvements and prevent future failures. CAPA management requires constant attention—don't let it become overlooked; it can get away from you quickly.
Once your company embraces the management of a Corrective Action and Preventative Action program, CAPA numbers will be reduced, the management of it will become easier, and continual improvement of quality will be promoted.
In conclusion, the title of this article asks the question:
Q: CAPA is not a difficult concept, so why do many companies have difficulty managing it?
A: I believe it is because the GMP industry is fast paced, lean, and focused on releasing products on schedule, which makes it easy to become wrapped-up in only fixing the immediate problem as fast as possible. Not taking time to slow down or taking a step back to think really causes a CAPA program to get out of control quickly.
---
Learn more about ProPharma's Compliance services. Contact us to get in touch with our subject matter experts for a customized presentation.