Unlock the Full Potential of Veeva's Vault Platform with ProPharma's Comprehensive Services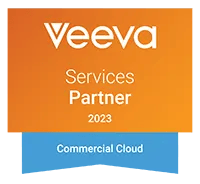 Maximize the power of Veeva's platform for your life sciences business with the unparalleled support and expertise of ProPharma. As a distinguished certified Veeva services partner, we offer an array of services meticulously crafted to optimize your Veeva Vault applications and ensure alignment with your organization's processes.
Unmatched Veeva Consulting Expertise
Our experienced team of Veeva consultants and experts possess an extensive track record of working seamlessly with the platform. Rely on our profound knowledge to comprehend the platform's multifaceted capabilities, craft new workflows, and optimize the system to precisely align with your distinct business requirements.
Tailored Customization
We acknowledge the inherent diversity in workflows, processes, and reporting prerequisites across life sciences businesses. Hence, we present our impeccable customization services to assist you in tailoring the Veeva platform to optimally suit your unique needs. Our adept professionals can engineer custom workflows, seamlessly integrate the platform with other systems, and construct tailor-made reports, ensuring that Veeva Vault harmonizes with your business ecosystem and processes.
Empowering Veeva Training Programs
To get the most out of Veeva, your employees need to be fully equipped to use it effectively. That's why we provide Veeva training services to help your team become Veeva experts. We offer on-site, virtual, and customized training programs that can be tailored to your specific needs. With our Veeva training program, you can ensure that your team is using Veeva to its fullest potential.
Adhering to Regulatory Compliance
In the heavily regulated life sciences industry, compliance is essential. ProPharma comprehends the intricate web of regulatory requirements that envelop the industry, and we are here to help you navigate the complex landscape. Our compliance expertise empowers you to confidently ensure that your Veeva platform meets all necessary regulatory standards, fostering peace of mind and promoting a secure and compliant environment.
Our experts can take the lead on system validation, development of SOPs, Work Instruction, and Job Aids, and lead ongoing change control, giving your organization the peace of mind of knowing that the system is maintained in a validated state.
Managed Veeva Services and Support
Technology and processes are constantly evolving. Our dedicated team delivers regular system maintenance, expert troubleshooting, and responsive Vault business administration services, ensuring that your Veeva platform consistently performs at peak efficiency. From User Access Management to performing Upgrade Impact Assessments and new feature enablement, our experts ensure that your organization gets the most out of your Veeva Vault applications.
Partner with ProPharma for Veeva Services Excellence
With ProPharma as your trusted Veeva services partner, embark on a journey of successful implementation, streamlined operations, and complete alignment with your business imperatives. Contact us today to discover more about our exceptional offerings or engage in a conversation with one of our esteemed experts. Experience the ProPharma advantage and unlock the true potential of Veeva for your life sciences enterprise.
Get Help from ProPharma's Veeva Implementation Experts
Partner with us to develop a comprehensive plan for your Veeva implementation. Our team of certified experts is committed to helping you unlock the true potential of Veeva for your organization. Contact us today to learn more.