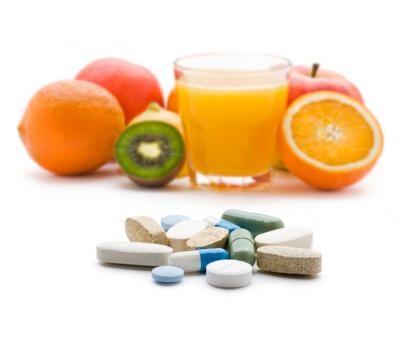 One doesn't have to spend much time in a pharmacy, grocery store or even a typical American house to see that dietary supplements have found a place in people's lives. In fact, roughly 54% of U.S. adults consume one of the more than 50,000 boosters.
So what's the skinny on dietary supplements? What exactly are they, why is it such a controversial subject and are we any better off for taking them?
Dietary supplements are defined or classified as a food by the U.S. Food and Drug Administration (FDA). They include such things as vitamins, minerals, herbals, botanicals, fiber, fatty acids, amino acids, and enzymes and are typically ingested as a pill, tablet, capsule, softgel, gelcap, powder, drink, or energy bar. Millions of Americans intake dietary supplements to boost an existing food diet lacking in essential nutrients. A plethora of other supplements are taken by others for additional reasons including medical conditions, as energy and relaxation promoters, sleeping aids, pre and post-menopausal symptoms and natal circumstances.
So why is it such a controversial subject? Well, there's a good reason why only half of the US adult population are consuming dietary supplements, and it's about as complicated and divisive a topic as politics. There seems to be 2 distinct schools of thought around the subject, those that believe we are better off ingesting dietary supplements and those that do not.
Some would argue that foods do not contain enough of the basic diet nutrients and thus we need supplements like multivitamins, meal replacements, sports enhancers and fish oils to make up the difference. That same group would indicate that studies show dietary supplements like calcium and vitamin D for bone strength and folic acid for the prevention of some birth defects play an important role in human health and have certainly bettered lives. Even the U.S. National Institute of Health has suggested that certain supplements "may have value for those who fail to consume a balanced diet."
Others would argue that all one needs for basic diet essentials is what's found in a routine, balanced diet that doesn't involve supplements. They go on to saythat many supplements like omega-3 fatty acids have no benefit at all and even go further to provide evidence of harm from yet other supplements. One such study backed by the National Institute of Health concluded that men who consumed vitamin E supplements were at a greater risk of prostate cancer. Likewise, they found that an increased risk of heart attacks was attributed to taking calcium supplements.
Another issue surrounds the potential risks from dietary supplement abuse. That's because unlike drugs, the purpose of dietary supplements is not to prevent, diagnose, treat, cure or even alleviate the effects of diseases. Potential abusive situations include using supplements in-lieu of healthy foods, using supplements in excess (overdoing a good thing), using supplements with medications, and substituting supplements for prescription medicines.
So who's right? The truth is, both sides are. It appears that there could be several things at play when we talk about dietary supplements as a whole. Are people taking pain relievers in addition to supplements that could skew results, is supplemental intake greater than the manufacturer's recommendation, and do individuals who consume supplements already have a healthy lifestyle? These and other questions should be considered. It seems while some dietary supplements are fairly well understood and accepted as beneficial, others are risky and need further analysis.
Wherever you find yourself in the discussion, here are a few things to be aware of concerning dietary supplements:
· Dietary supplements are classified as foods by the FDA, not drugs and their manufacturing controls fall under 21 CFR part 111
· Supplement manufacturers are required to demonstrate minimum quality standards and safety only before the product enters the market, effectiveness is off the table
· Dietary supplement claims by manufacturers should be accurately labeled and not misleading. (Conversely, dietary supplement manufacturers can claim their product is supportive and supplemental in nature to the body)
· Dietary supplements can be removed from the market by the FDA at any time if they are found to be adulterated, unsafe, or if the product claims are false and misleading
So, are those of us taking dietary supplements any better off? The jury is still out on that one. I'd like to believe the few pills I pop are making me healthier than not taking them at all. I also would like to believe that manufacturers, the government, and anyone else involved are doing their best to ensure the safety of dietary supplements for my family and yours.
References
1. U.S. Food and Drug Administration Dietary Supplements: What You Need to Know
2. U.S. Food and Drug Administration FDA 101:Dietary Supplements
---
Learn more about ProPharma Group's Compliance services.
Contact us to get in touch with our subject matter experts for a customized Compliance presentation.