How to Write an Effective Quality Investigation Report: In 2016, the FDA issued hundreds of 483 observations across the Drug and Device industries for failing to thoroughly review or investigate issues. This topic consistently hits the top five most frequent observations cited year after year.
What is it about the investigation process that so many organizations are struggling with?
In this guide, we'll explain why organizations struggle with conducting investigations, how to avoid common pitfalls, and ultimately how to write an investigation report.
What is an Investigation Report?
A deviation occurs when there is a departure from approved SOP's and standards during filling, packing, sampling, and testing. Deviations can be planned or unplanned and vary in severity. The purpose of investigation is to identify the root cause of the deviation(s) and outline the corrective steps taken by the organization to ensure the safety, purity, quality, strength, and integrity of the product.
Why Organizations Struggle with the Investigation Process
While each organization has its own nuances and investigations will vary widely on a case-by-case basis, most issues with an investigation can be traced back to two causes:
1. Uncertainty on where to begin
One pitfall that new investigators can encounter is where to start. 'How did this issue happen? Does your company have a robust quality system to prevent these types of occurrences?' These issues are moved to the back of the stack and as time starts to slip by, the investigation becomes overdue due with several extensions. The work seems daunting and difficult to complete. This can lead to the investigation not being thorough as employees involved in the investigation start to forget details or leave the company for another opportunity leaving the investigator unable to interview the employee involved in the deviation.
2. Underestimating the complexity of an investigation
An investigation can appear to be as simple as ABC, which can be another pitfall, A) Something unexpected happens, B) the problem is assessed, and C) the issue is fixed, and we move on to the next investigation. This simplicity can lead to a false sense of security never realizing, until Quality or an agency performing an inspection finds problems or gaps in the investigation. Remember, a company's Quality Management System (e.g., SOPs, Batch Records, etc.) is designed to prevent unforeseen issues.
So, what is the secret to avoiding these pitfalls? Ask a lot of questions. Interview employees involved in the deviation. Make sure the interviews are timely. The more time that passes by the information becomes more diluted as people's memories tend to fade.
Writing Investigative Reports Example
The flow chart image below outlines the process flow of a typical quality investigation. The investigation process is best performed with a team; involve individuals and subject matter experts from the impacted departments. Follow this example when performing an investigation and make adjustments based on the circumstances of you're investigating.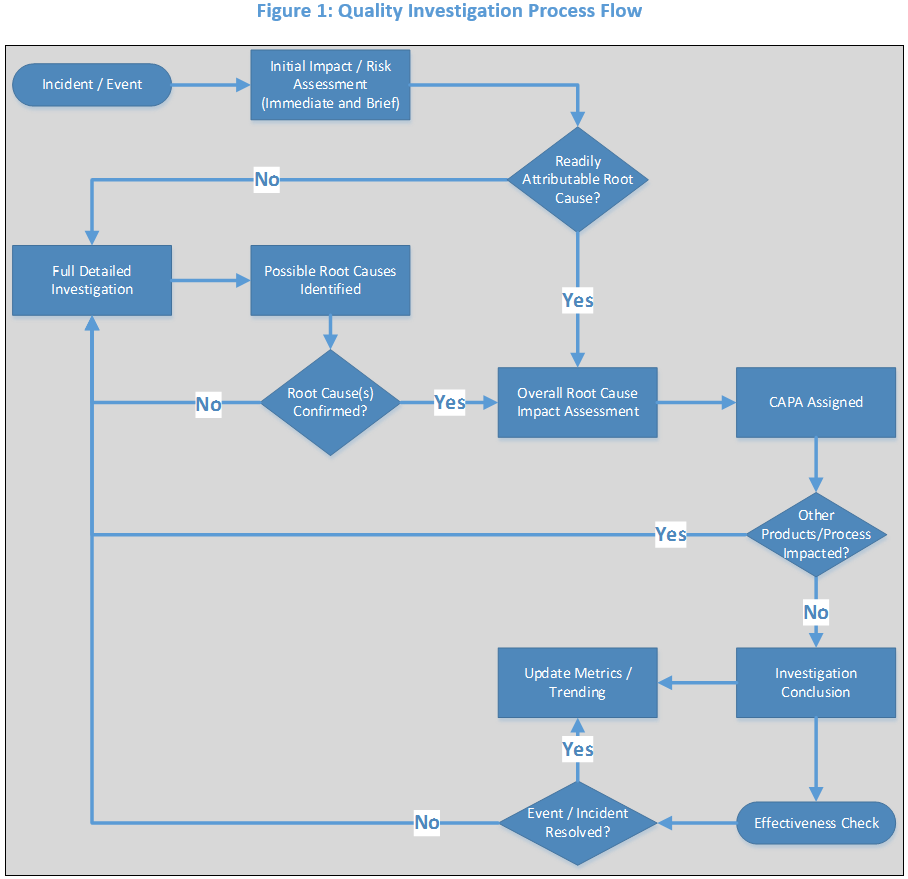 How to Write an Investigation
The investigation method that I use takes the process elements outlined in the image above and places them into a report format or template. Each section of the report is designed to discuss the corresponding element and will guide you through the investigation process. This format may be included in your Quality Investigation SOP as an outline for all investigations. The method is structured as such:
1. Documentation and detailed description of the event that occurred
Describe the event that was initially observed and what was expected to occur. Use times and dates while answering the questions who, what, when, and where. If this is a non-complex, readily identifiable root cause(s) of low impact, move to step 5 Impact Assessment.
2. Historical Search
Perform a historical search based on your investigation. Has this deviation occurred before? How many times and when? A historical search can help you find if a CAPA already exists for the problem that occurred? The CAPA may have not been implemented at the time of your investigation. E.g., an SOP addition is needed to prevent a particular event but is not scheduled to be implemented for another month. In this case, you can assign that CAPA to your investigation if appropriate. Now let's say the update did occur to the SOP months before your deviation. You now know that the CAPA is not effective and a new CAPA must be planned and implemented.
3. Full Detailed Investigation
Start by explaining the process as it was supposed to occur. This will Segway into your investigation. Choose the investigation technique that is appropriate for the investigation at hand (e.g., 6-M's, 5 why's, Fishbone.) List all possible failures/excursions that could lead to the generation of the incident that is being investigated. In some cases, multiple root causes can rise to the surface of the investigation, or several contributing factors can be identified. The investigation must be thorough, or the risk of re-occurrence is likely).
TIP: Photos, diagrams, and flow charts are great inclusions to clarify fix or failure to the reader.
4. Possible Root Cause(s) Identified
Using a full sentence, create a root cause statement (e.g., "From the investigation the most probable Root Cause(s) was identified to be…").
5. Impact Assessment Overall (Post Root Cause Identification)
Document "if" or "if not" this problem could occur in other areas or other product runs, indicate any potential for other products to be affected, and describe regulatory impact or consumer risk.
6. Assignment of Corrective and Preventative Actions
Document how/what was done to correct the problem at hand and how/what was done or needs to be done to prevent a reoccurrence.
7. Investigation Conclusion
Create a conclusion statement. Include recommendations based upon the investigation and impact assessments (e.g., "As a result of this complaint investigation it was determined that there is not any direct product risk and the product will remain in released status. Corrective Actions X, Y, and Z were immediately completed and the following CAPA follow-up numbers have been assigned to the long term Preventative Actions A, B, and C…").
8. Metrics and Effectiveness check
Review and verify that the corrective and preventative actions implemented were sufficient in eliminating the reoccurrence of the problem. Update associated metrics for further process trending.
Bolster Your Quality System Through Effective Investigation Reporting
Following this process will help you perform consistent and thorough investigations that resolve issues and bolster your Quality System. This will in turn improve quality and help to avoid the common "failure to thoroughly review or investigate issues" FDA 483 observation. If you still aren't sure how to write an investigation, consider working with a third-party expert such as ProPharma Group.
Learn about ProPharma Group's Quality and Compliance Services or contact us to get in touch with our subject matter experts for a customized presentation.