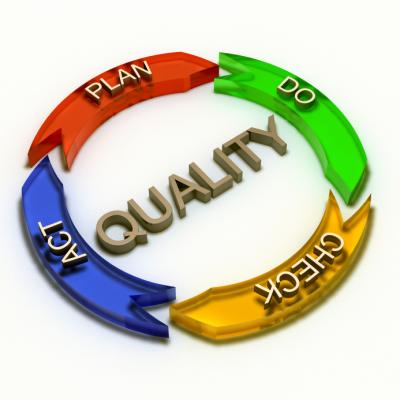 When it comes to the Healthcare industry (e.g. pharmaceuticals, medical devices, dietary supplements, etc.) who owns a company's Quality Assurance practices? Without a doubt the Quality organization has had the burden, if you will, for their business's quality practices. And Quality Assurance (QA) has its hands full "Assuring" that they continue to change to meet the on-going challenges before them. Here are a few challenges that QA is up against:
Mindsets throughout the organization
Changing from a "they" to a "we" approach of ownership of quality
Changing from a problem-solver to a preventer approach of investigations
Changing from an enforcer to an advocate approach of practices
Changing from a results to a purpose driven approach of orientation
Changing from a conformity to a continuous improvement approach of inspections
Respect throughout the organization
Spending much of my professional career in quality, this one hits home. In my experience, QA has been the point group of Subject Matter Experts (SME) within the pharmaceutical industry for making tough, sound, quality decisions, and they should. With that being said, QA is challenged with the ever-changing pursuit of mutual respect within the company between departments. As regulatory requirements and the manufacturing processes adjust, Quality must be able to adjust as well to keep pace. QA needs to equip themselves with the necessary quality expertise to fully understand and be engaged in the manufacturing processes and the problems that arise. QA must be seen as agents of collaboration, innovation and a trusted team player among all departments.
Robust quality systems throughout the organization
Finally, QA can implement more robust quality systems or processes that envelope manufacturing. Although QA has no direct control in the design of the manufacturing process, it does have systematic control over the systems that support manufacturing. Such systems include change control, document control, investigations, training, auditing, and validation. Designing, building and maintaining a robust quality system ensures a state of control throughout the entire product lifecycle and is as important as the product itself.
Performing periodic assessments of the company's quality systems is a critical function of QA to ensure robustness. A typical process assessment evaluates:
Whether the system is performing as designed to prevent or mitigate errors;
Whether there is a dedicated person who "owns" the management, evaluation and improvement of the system;
Whether the system is an integral part of a unified, larger system;
Whether metrics are clearly defined, utilized and drive each independent part of the system to achieve the desired outcome
The Quality organization that sees the challenges set before them associated with employee mindsets, respect and system robustness and meets those challenges head on, will be the one that is a leader in their company and the entire industry.
So "who owns Quality?" Without a doubt, everyone owns quality. Every company employee from the technician on the manufacturing floor, to the process engineer and the site head are responsible for the quality of every aspect of their job. And certainly as their namesake, the Quality organization has the chief role of proactively leading the team with collaboration, enhanced systems and management controls.
Reference:
June 2014 PDA Letter "Today's challenges for QA personnel" Robert Kieffer
---
Learn more about ProPharma Group's Compliance services.
Contact us to get in touch with our subject matter experts for a customized Compliance presentation.