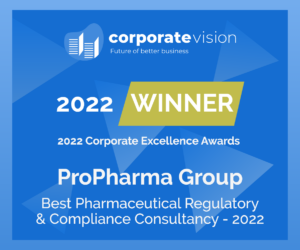 ProPharma Group Named Best Pharmaceutical Regulatory & Compliance Consultancy: 2022 Corporate Excellence Awards: ProPharma Group is honored to be awarded "Best Pharmaceutical Regulatory & Compliance Consultancy" as part of the 2022 Corporate Excellence Awards by Corporate Vision.
Now in its 6th year, the Corporate Excellence Awards were launched by Corporate Vision to showcase companies and individuals that are committed to innovation, business growth, and providing the very best products and services to clients across a wide range of industries.
ProPharma Group helps biopharma, and medical device and diagnostic companies from early concept development through each clinical phase, product launch, and commercialization.
"Our goal is to be your regulatory partner, moving you from one regulatory phase to the next, in pursuit of your corporate objectives. Located across the globe and averaging 10 years of experience, our 150 professionals use thoughtfulness and scientific acumen to consistently exceed expectations and help our clients succeed."

Matthew Weinberg, President of Regulatory Sciences
We provide support for a wide range of products including large or small molecules, medical devices and diagnostics, combination products, vaccines, generics, dietary supplements, IVD, nicotine replacement, and cell and gene therapy (ATMP). You name it and we have probably worked on it.
ProPharma Group Named Best Pharmaceutical Regulatory & Compliance Consultancy. In selecting a consulting group, here are some of the most important characteristics to consider:
Proven Track Record of Success: Over the past four decades we have conducted approximately 30 successful formal meetings with FDA and EMA each year, including Pre-IND, End of Phase 2 Pre-NDA, Type C, INTERACT, Pre-Submission and Scientific Advice. During that same time period, we have submitted hundreds of successful INDs, NDAs, BLAs, ODDs, MAAs, 510(k)s, DeNovos, PMAs IDEs and Request for Designations.
"Glocal" Reach: Local presence is necessary for regulatory success. We have a global footprint of local presence for FDA (US), EMA (Europe), MHRA (UK), PMDA (Japan), NMPA (China), TGA (Australia) plus many other countries.
Wide Range of Services: In addition to Regulatory Sciences, we offer our clients a comprehensive suite of services throughout the full product lifecycle available globally, including quality/ compliance services, R&D technology, clinical research solutions, medical information/pharmacovigilance, and post approval commercial support.
ProPharma Group can start anywhere in the process. Some clients come to us at the end of the process, requesting a review of their documentation prior to submission or for electronic publishing assistance. Whereas a majority of clients come to us at the beginning of the process with three things: a product, an indication and a question. Their question is, "what is the best way to get our product approved," where best means cheapest, fastest, and highest probability of success.
Our clients are innovators, scientists and business executives of emerging pharma, biotech, and medical device companies whose personal and corporate success is directly linked to regulatory success. They choose ProPharma Group Regulatory Science because we are unrivaled in the industry for helping clients achieve their regulatory milestones and business objectives.
Click here to read the full article.
Interested in learning more? Contact us today to find out how we can help with your global regulatory needs