ProPharma Group has launched a "Meet the Expert" series to introduce you to our experts from around the world. This series will help you get to know who we are, and how our colleagues work to support clients' complex challenges throughout the complete product lifecycle.
Meet the Expert: Xenia Freifrau von Maltzan, Principal Consultant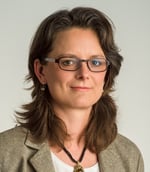 Introduction:
Xenia von Maltzan works as a Principal Consultant in the Berlin office. Xenia has been engaged in pharmaceutical development projects for many years, mainly focusing on international regulatory affairs. This is an excellent experience when working with different international teams in the cannabis field.
What do you like best about working with clients?
Especially when working with cannabis clients, they come from very diverse backgrounds and have a different understanding of the regulatory landscape, including how and why it is so regulated. I like to advise on these topics and raise an awareness for the complex structure and specific German requirements aiming at solutions. It is essential to understand the requirements, so that you can shorten the time to market.
What's your number one goal right now?
There are numerous indications where cannabis can be a treatment alternative with less side effects, especially if you compare it with strong addictive pain killers. I want to make sure that these innovative treatment options are available to the customer sooner. I am proud that Germany is a trendsetting country, offering these new alternatives. Thus I support our customers in their journey to access the German market and find a way through the federally organized system.
What are the biggest challenges on the horizon for our industry?
In very innovative therapeutic areas, the health care community is only focusing on and discussing Pricing but really missing the appreciation of value that such a medical treatment is offering. You can see that with recent approvals for gene therapy or cell therapy. I think we need to see greater appreciation for the value of new medicines. Take again the example of cannabis, it is improving life for patients with epilepsy or MS and the availability should be assured in the German market, and beyond in other European markets.
What do you like to do in your free time?
I like to spend time in nature, from walking to hiking and cycling, especially in autumn I enjoy it a lot.
What are 3 words you would use to describe ProPharma Group?
The three words are customer-centered, nimble and solution-oriented. Our customers appreciate our working style who puts the customer first, we want to understand the customers needs and offer advice based on their situation. This requires a flexible working style - to balance customer ideas versus legal requirements with the primary goal to find a solution. We are nimble, "flink" you say in German.