Our "Meet the Expert" series introduces you to our team of experts around the world. This "behind the curtain" view will help you get to know who we are on a professional and personal level, and highlight how our colleagues work together on our higher purpose to improve patient health and safety throughout the complete product lifecycle.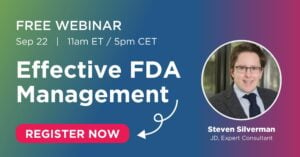 Meet the Expert: Steven Silverman, JD, Expert Consultant
What do you do at ProPharma Group?
I am a regulatory Expert Consultant. I support clients with medical product regulatory, strategy, and policy concerns, applying my experience as a leader at the US Food and Drug Administration (FDA) and my service to medical product companies. At FDA, I directed the Center for Devices and Radiological Health (CDRH) Office of Compliance, where I led device quality initiatives and engaged industry and other stakeholders. I also led FDA drug compliance initiatives, serving as Assistant Director of the Center for Drug Evaluation and Research (CDER) Office of Compliance and served as Associate Chief Counsel, where I led drug and medical device enforcement actions.
I have also served the medical product industry. After leaving FDA, I joined McKinsey & Co., where I counseled pharmaceutical, medical device, and other clients on regulatory strategy, product compliance and quality, and stakeholder communication. I later worked as a Vice President with AdvaMed, the leading medical device trade association, where I focused on product quality and compliance, pre-market approval, and device advertising and promotion.
As an expert witness, how do you handle questions?
The first and absolute rule is to be truthful and accurate.
Clients retain regulatory experts to explain issues like FDA requirements and Agency practice. Experts respond best by providing correct, precise information to the client, to judges and juries, and to opposing counsel. When possible, experts should frame information to align with client positions. But when these positions and regulatory principles don't align, clients need to know this.
What makes a good expert witness?
The keys are accuracy, accountability, and quality.
Accuracy means that the expert's opinions must be trustworthy and reliable, without exception. As important, the expert's feedback must inform the questions that the expert has been asked to consider.
Accountability means being professional. When an expert commits to providing support, the expert should meet that commitment with timely and useful work products, relevant insights, and regular communication.
Quality means that the work product must be good. As "table stakes" this means work product that is clear, reliable, and persuasive. It also means framing work product to align with the client's stance.
What are the 3 most important things to consider prior to your courtroom appearance?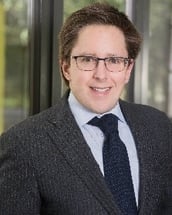 The first question is what are the key messages? After the expert has offered and defended his or her position, what is critical for the judge and jury to understand?
Next, the expert should consider who the audience is. The answer could be the judge, the jury, or both, and that answer informs communication strategy. In talking to a jury, for example, the expert should avoid technical terms that judges, and lawyers may understand, but which sometimes confuse laypersons.
Last, the expert should consider how best to be a credible and reliable witness. This means showing the judge and jury that the expert understands the facts and law at issue, has relevant expertise, and can reliably inform decision making.
How do you support ProPharma Group's mission and higher purpose of improving the health and safety of patients?
I help clients, judges, and juries understand complex regulatory, policy, and strategic matters. I leverage my extensive government and industry experience to develop accurate, compelling expert positions. My insights clarify the complex medical product regulatory process.