When pharmaceutical companies launch a clinical trial or reach a certain phase of Clinical Development, with only the support of their in-house employees, the additional workload often becomes too much for staff. Hiring extra staff just for the clinical trial is a possibility, but this can be prohibitively expensive, even for midsize companies and especially for small sponsors. A better option is to turn to a functional service provider (FSP) team like ProPharma. You can receive a suite of services, bringing therapeutic expertise to the table and allowing the sponsor to ramp up staff quickly, managing to the timeline of the trial.
Advantages of Using an FSP
An FSP is any company that a business can contract or outsource to carry out a particular type of work. For clinical trials, it's a much better option than outsourcing, since you're able to stay involved in the process to the extent you want.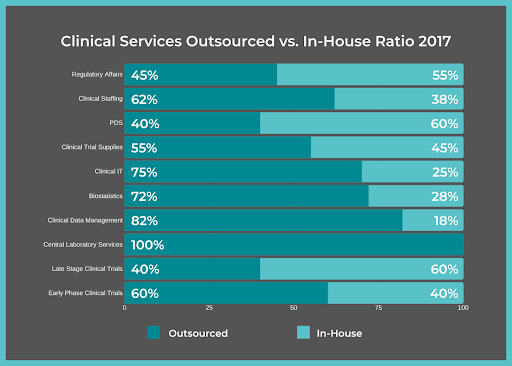 It's common for life sciences companies to use FSPs for clinical trials due to their vast amount of benefits.
1. À La Carte Services
With an FSP, you only receive the services you want. You choose what you require due to budgetary restrictions and the degree of expertise needed. This characteristic makes FSPs suitable for businesses of all sizes.
At ProPharma, you can have all the benefits of an FSP team while maintaining incredible flexibility and customization. You choose the scope of work needed and we handle the workload per your specifications.
2. Cost Savings
According to an NCBI study, the average cost for a Phase 1 trial ranged between $1.4 million to $6.6 million, including overhead costs. A Phase 3 trial averaged upwards of $52.9 million. No matter the phase, 74% of the cost was from human capital.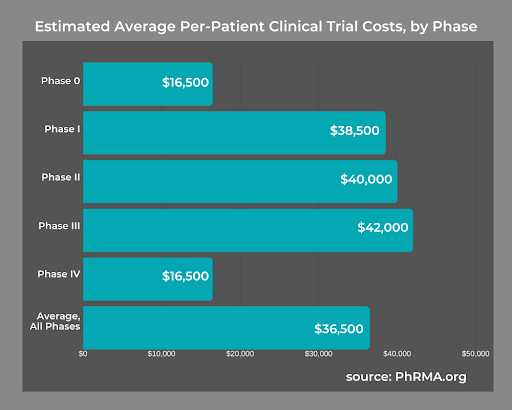 Using an FSP team gives you greater control over how much you spend on clinical trials. At the same time, there are no costs related to hiring and maintaining new employees. For instance, there are no expenses related to scheduling, payroll, benefits, or any other aspect of human resources that costs you time and money.
Better still, all the experts at the FSP carry out their work remotely. This eliminates costs like rent for more office space, more desks, and office equipment. In addition, your employees will appreciate that they won't lose space or need to share desks to make room for temporary consultants.
3. Expertise in Every Discipline of Clinical Trials
FSPs are made up of large teams of experts who specialize in different aspects of clinical trials, such as clinical monitoring, biostatistics, data management, and medical writing. When you contract an FSP, you'll receive a combination of analysts, clinical operations, data sciences experts, and other types of experts according to what you lack at your company.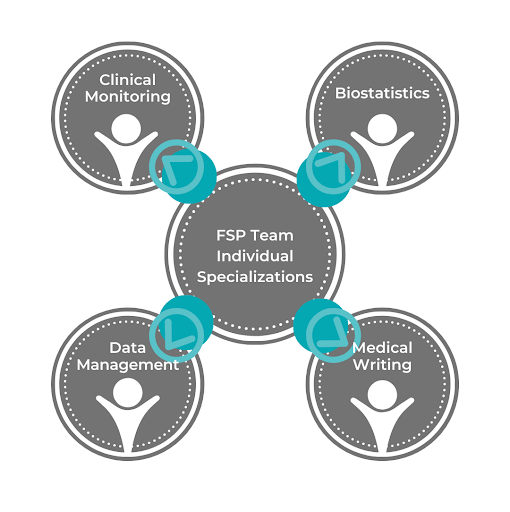 4. Productivity and Flexibility
With the Functional Service Provider handling your clinical trials, your team is free to focus on core business tasks. This improves productivity at your company during clinical trials. In addition, the reduced pressure on employees may well improve the quality of both the clinical trials themselves and other work.
FSPs carry out clinical trials in a way that is more productive than most companies are capable of. They have an infrastructure set up to share workloads, allocate and move resources, and adapt their approach according to the operating model and strategy.
5. Knowledge and Resources
Team members at the FSP can provide your company with the skills and knowledge you may not possess in house. Plus, they have access to additional technology to enhance your clinical studies — these tools and software will be included as part of the contract. You may even be able to use the provider to penetrate new markets that would have otherwise been inaccessible to your company.
6. Risk Mitigation
When clinical trials consume your in-house staff, there is a higher risk of errors, both in clinical trials and in other business activities. This is preventable by using an FSP. Not only are the team members fully dedicated to your clinical trial, but the FSP will also put quality controls in place to ensure high performance and productivity.
Keys to a Successful Outcome
Just hiring any FSP team is no guarantee of a successful outcome. You need to find a service provider like ProPharma who will give you the following.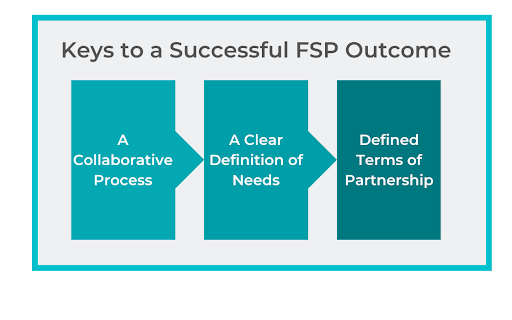 A Collaborative Process
Even if an FSP team is taking care of the majority of the work in your clinical trial, the process does need to be collaborative.
The FSP team will likely have recommendations for how to improve collaboration based on their prior experience. This will range from how to track deliverables and process billing to the use of systems and managing the project in general.
At ProPharma, we ensure there is consistency throughout the process, such as keeping all our team members up to date and dealing with reassignment in the case of employee departure.
Furthermore, our teams will share the values of your company so the collaboration works at its best from our approach to conflict resolution, communication, oversight, and customer service.
A Clear Definition of Needs
Next, you'll need to work together to create a plan that confirms both parties are clear as to their responsibilities. Determine how you will stay in contact, including a timetable of check-ins. Specify whether these will be by phone, by email, or as in-person meetings. Regular reports and communication will allow you to adapt to changing circumstances, whether this means scaling up or avoiding underutilized resources.
When discussing your business needs, assess the FSP's willingness to listen. A representative who just wants to talk about what the company can do for you is a red flag. Poor communication will lead to a breakdown of your collaboration — and you'll probably receive a generic set of services rather than a selection chosen to meet your unique requirements.
ProPharma offers a comprehensive suite of clinical development services. You select the services based on your needs and constraints: full insourcing solution, a functional team for a specific department, or a hybrid solution.
Defined Terms of Partnership
The last aspect to discuss with the FSP is the terms of your partnership. This needs to include everything from your vision and goals for the project to any confidentiality agreement and the length of the service, including the option to renew.
Also, specify how you'll handle staff lending. It could be beneficial to transfer some of your employees to work with the FSP during either all or a period of the clinical trial. This is often useful if you have workers who are already familiar with the project and you want to reduce the time it will take to get started. If you do choose to lend your staff, it is critical you make it clear who they will report to and what expectations you have of them.
Lastly, include in your plan how you will cope with unexpected issues. Outline potential problems you could experience, the protocol for dealing with them, and possible solutions.
A functional service provider that can meet all of the above criteria and exceed your expectations is ProPharma Group. Our team is made up of experts who possess all the necessary knowledge to ensure your clinical trials run smoothly and efficiently. We will collaborate closely with your employees through a selection of services tailored to your requirements without any extras you don't need.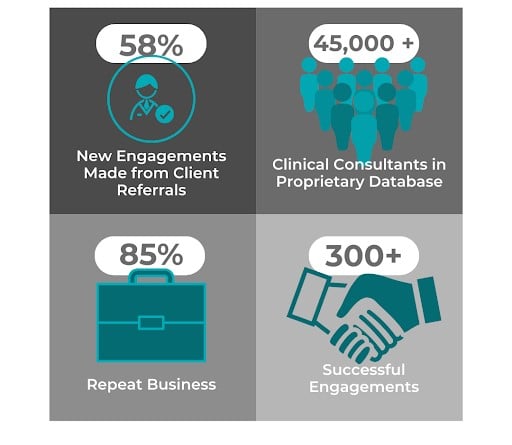 With over 20 years of experience providing top-quality global FSP teams, we tailor solutions to your needs with consultants that are experienced across all phases of clinical development. Contact us to discover how ProPharma's FSP teams can benefit your clinical development with a no-obligation consultation call.