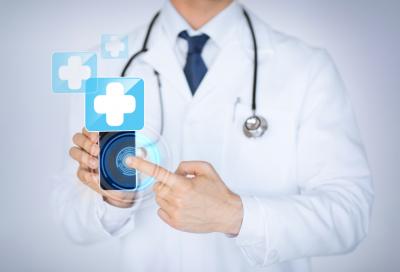 So what's all the hub-bub about Digital Health? Is it really as big as they say? Is it just a fad? Is it all hype? Well, my answer is yes to all of the above. As with all major new technologies and flavors of the month/year that emerge in this new world economy, there will be semblances of all the above, with percentages of each of these being different.
As the first installment in this blog series, let's start with a definition of Digital Health. Digital Health is defined as "the convergence of life sciences and technology, for transforming medicine and revolutionizing global markets."
White & Case brochure, The Cutting Edge: Shaping the Future of Digital Healthcare
An example of where this has already had an impact on our world is with our connections to our doctors and our health systems. In the San Francisco Bay Area, two of the largest medical providers are USCF and Sutter Health. Patients are heavily encouraged and supported to download the "MyHealth" app onto their mobile devices, and use for scheduling, requesting info and seeing the results, all with a few clicks of their fingers. And patients, like myself, love having this convenience. The last time I tried to schedule an appointment by phone took over 15 minutes to get through and get some dates and times. Last week, I got onto my phone app while waiting on the phone, and in 2 minutes I had all the options in front of me and the ideal time and date chosen. BAMM, I'm converted.
More and more websites, apps and services are cropping up to take advantage of this exciting convergence that is occurring. Digitalhealth.com, digitalforhealth.com, and related conferences are occurring around the US and rest of the world on a weekly, if not a daily basis. For example, one of the world's largest conferences that occurs annually in Las Vegas, known as CES (Consumer Electronics Show), has a sub-specialty "Summit" occurring each year dedicated to Digital Health, and in fact, 2016 will be their 7th year doing this. Their tag line for this coming conference is "The Event That Promises to Move Your Thinking & Your Business Forward."
www.digitalhealthsummit.com
"Open Treatment", is an app that's free to patients, and has been launched by its founder and a colleague of mine, Robert Nathanson, MD. They are working on deals with large hospitals and service providers to help patients get quicker, easier access to their doctors. By having the patient's data loaded in a cloud service, the patients can show up at a hospital, have all the info verified and reviewed quickly, and actually even have pre-approval prior to showing up for the appointment. Imagine walking into the ER and being seen in 5-10 mins, vs the 3-4 hours that is the average? And how about the VA (Veterans Administration), with a database of over 35 million people, none of which can get an appointment in under 30 days. What do you think happens when a mild infection turns to sepsis, and then possibly necrosis, during the time the patient is waiting to see the doctor? Estimates of what would happen if the VA alone started to use this app and service are in the billions of dollars per year.
And for a list of examples for how there is an explosion of digital and mobile health technologies emerging for health, wellness and medicine, see this list below:
The question you may be asking at this point is "what does this all have to do with Pharma, Biotech, and Medical Devices?" And that's a really great question. For your information, virtually every major Pharma and Device company has entire departments, or at the least, numerous resources dedicated to figuring out how they can reposition or restructure their business to take advantage of this revolution that's occurring.
93% of Life Science companies say digital healthcare plays a key role in overall business strategy
33% of Life Science companies have a well-developed digital healthcare strategy; 33% have this strategy implemented and another 27% are in the planning or pilot stages.
(Data from MergerMarket, 2015)
At a recent talk in Palo Alto, a pharmaceutical executive commented that one of the biggest corporate initiatives is to find ways to take advantage of the vast amount of patients that are not aware of clinical trials they can be participating in. They are hoping to find strategic partners and technologies that can help tie these needs and opportunities all together.
In my upcoming blog, we will continue the discussion focusing on the impact of digital health on drug and device development timelines and clinical trials, as well as begin delving into the explosion of medical / digital wearable technology that is occurring.