Decentralized Clinical Trials (DCTs) is a buzzword in the clinical research space that has been gaining notoriety because of the COVID-19 pandemic. It's a concept that revolves around bringing convenience and comfort into clinical trial patients, and when utilized well, can be instrumental in allowing patients to fully participate in a clinical trial.
While the concept is simple, there are many ways to incorporate decentralization into a clinical trial. Before we talk about how to decentralize a clinical trial, we must understand what it means to do so and why incorporating a DCT approach should be considered.
What Does it Mean to Decentralize Your Trial?
To decentralize a clinical trial means that the visits or activities a patient normally makes at a study site in a site-centric model are now being performed offsite. DCT models are considered patient-centric, meaning they focus on meeting the patients where they are, bringing treatment, technology, safety assessments, etc. to a location that is convenient for them.
At ProPharma Group, we understand DCT encompasses several different approaches. Patient centricity can include the following: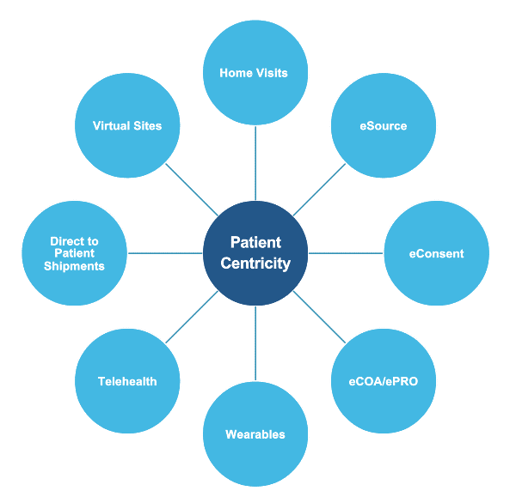 It can be overwhelming for Sponsors to determine how to deploy a decentralized approach. We recommend that you start by incorporating decentralized visits in your protocol. If using a DCT provider, they can provide guidance and recommendations for visits that can use a decentralized approach.
What Are Decentralized Visits (DCVs)?
Decentralized visits or DCVs is the term for trial visits that occur away from the study site. They are more than in-home visits, because in addition to being performed in the home, they can be conducted at work, school, a local clinic, or anywhere that is convenient for the patient.
Ideally a trained, certified clinician (RN, LPN, phlebotomist) will coordinate with the patient and caregivers to schedule and complete the visit. The clinician gathers the sample, records data, and then sends it back to the site either electronically or via paper reporting.
ProPharma Group utilizes our proprietary, 21 CFR 11-compliant eSource platform for decentralized visits to improve the speed at which we can provide data back to the site. This ability to send visit data electronically helps eliminate errors that can occur using a paper-based process and ensures that the clinicians are capturing all the vital information required for each visit.
Why Use a Decentralized Clinical Trial Approach?
There are many ways to incorporate a decentralized approach in your trial without implementing a fully virtual trial. A hybrid approach, where the patient returns to site for some visit activities, is common and typically structured so that sites can enroll and complete high-complexity visits while other, more frequent, and routine activities take place out in the field.
There are many reasons why you should incorporate a decentralized approach into your trial, including:
Increased patient comfort and convenience
Enables greater participation
Expanded recruitment geography
Increased retention
Access to a larger, more diverse pool of patients
Reduced number of sites needed
Real-time data capture
Increased flexibility for patients
Ensured continuity of care
Eliminates the need for transportation
By incorporating a hybrid DCT approach, patients have the option to complete the visits the way they want to.
Which Studies Work Best for Decentralized Clinical Trials?
One of the best parts about patient centricity is that it is therapeutically agnostic. Regardless of your therapeutic area, there are ways to fit decentralized visits into the study.
In our DCT Insider Talks webinar, we discussed that therapeutic areas fall into a few categories and how DCVs can work for them.
Decentralized Visits for Patients with Busy and Active Lifestyles
Patients enrolling in dermatology, rheumatology, and gastrointestinal studies may be living busy, active lifestyles. They are on-the-go and fitting a site visit into their schedule is often not convenient to their lifestyle.
By utilizing decentralized visits, these patients can complete the decentralized visits quickly and efficiently and get back to their activities. Often these patients can get lost at the end of a trial for long-term follow-up visits. They are more likely to complete those visits if a clinician comes to them.
Patients Who Reside in Rural Areas or Hours from the Site
For patients with rare and orphan diseases, or those participating in a vaccine study, the commute to a site can be long and overwhelming. It can be difficult for these patients to travel hours in the car or on a plane to visit the site multiple times over the course of the trial.
When decentralized visits can reduce the number of times that they have to make the trek, it can be easier for them to participate in the study.
Decentralized Visits for Patients Who Require Assistance or a Caregiver
Many geriatric, pediatric, and neurology clinical trials have patients who require a caregiver to get them to and from the site and to be present for their visits. Decentralized visits can alleviate a lot of the stress placed on those patients and their families because the clinician is able to visit the patient at a time when it is convenient for both the patient and caregivers.
By eliminating the need to travel to the site, it they no longer have to rearrange their entire day and family's schedule to fit in a visit to the site.
Patients Who Are Frail, Immunocompromised, or Have Mobility Issues
For many patients in oncology, musculoskeletal, and immunology trials, it can be very daunting for them to leave their home. Additionally, leaving the house may put them at risk of exposure to illness and other viruses like we saw during COVID.
Decentralized visits can reduce the risks and worry these patients face. After a long day of treatment that zaps their energy, patients can remain in the comfort of their home and don't have to worry about getting up and moving to visit the site.
How to Incorporate a Decentralized Approach in Your Clinical Trials
1) Consider the Patient Perspective
Before you can determine which visits can be performed away from the site, it can be important to consider the patient's perspective and understand their current standard of care for their condition. From there, ask how you can design processes that fit into the patient's life, rather than asking the patient to fit their life into the trial.
Decentralization can be used to improve the timing, privacy, and convenience that can allow for patients to be able to participate in the trial.
Timing – Professionals on-the-go, or school-age students may prefer visits be performed before/after work and school or on the weekends
Privacy – Patients can collect samples in their home and don't have to feel uncomfortable providing samples at the site or transporting to the site at the proper storage temperature
Convenience – Even when located close to a site, patients, especially those who may have mobility issues, may prefer a provider come to them because it's more convenient
These are great topics to discuss with patients and patient advocacy groups to understand their thoughts and better understand what the patient population is living with.
2) Identify a DCT Provider
There are many DCT providers to choose from, and the right fit is based on your needs and study.
When selecting a DCT provider, many Sponsors often rely on their CRO to identify and contract with a DCT provider. While this is convenient, we have seen that CROs are looking to select a DCT provider with the lowest cost and typically not focusing on identifying the highest quality, specialized solution for the trial. This can lead to a lack of communication prior to contracting, incorrect assumptions, and delays in setup. Selecting a DCT provider is not as transactional as selecting a lab or other vendor, so it is helpful to work directly with a DCT provider or with a CRO who has DCT services in house. This ensures you are working directly with the experts.
3) Determine Which DCT Solution is Right for Your Trial
Sponsors are often concerned with how to determine which DCT solution is right for their trial. There is a lot of value in being proactive and planning for a DCT approach during study design, rather than as a reaction to something, such as what happened during COVID lockdowns. It is beneficial to work with a DCT provider who can provide guidance at the time of protocol development to understand the best approach and how to implement it.
The earlier you can plan for decentralization in your trial, the more successful you will be in completing the study. You need to determine which visits can be performed remotely. Visits that include sample collection, safety checks, vital signs can usually be performed without a visit to the site.
Examples that make great decentralized trials are those with:
Daily/weekly/bi-weekly visits (IP or safety follow-up visits)
Frequent lab collections (PK samples or safety labs)
Long-term follow-up visits
DCT/decentralized visits called out in the protocol
4) Work with Your DCT Provider to Identify Which Visits Can Be Performed Offsite
It is important to begin planning for decentralized visits in the beginning stages as there is a little bit of complexity associated with each visit type that sometimes require creative thinking between sponsors and DCT providers.
Clinicians performing decentralized visits do not have the luxury of colleagues down the hall or storage closets with back-up supplies, so these are some of the considerations that can be worked out in the protocol design stages.
Tips for Success with DCTs
Here are a few tips to be successful when implementing a decentralized approach to your clinical trials:
Begin collaborating with a DCT provider early on, while developing your protocol or schedule of events to anticipate and design visit options to fit patient needs with DCT
Work with a vendor or CRO who has DCT services in-house, so you are working directly with the experts
Invite your DCT provider to the Investigator Meeting and SIVs so they can begin developing trust with your sites early on
If you are investing in a decentralized approach for your study, promote it to your sites and encourage use throughout the duration of the study
Sites may forget about or not need a DCV option right away, but with reminders from the Sponsor and outreach from the DCT provider, options to patients remain open for convenience and continuity of care.
Contact ProPharma Group for Help Implementing a Decentralized Approach for Your Clinical Trials
If you want to incorporate a decentralized approach into your clinical trial but have additional questions about how it makes sense for your study, contact ProPharma Group. We have over 10 years' experience implementing decentralized visits across many therapeutic areas. Our experts are ready to help you reduce patient burdens so that you can meet enrollment requirements and successfully complete your study.
Our team can review your draft synopsis or protocol design and give you a customized game plan of where to incorporate decentralized visits. Contact us to learn more about our services and get started today.