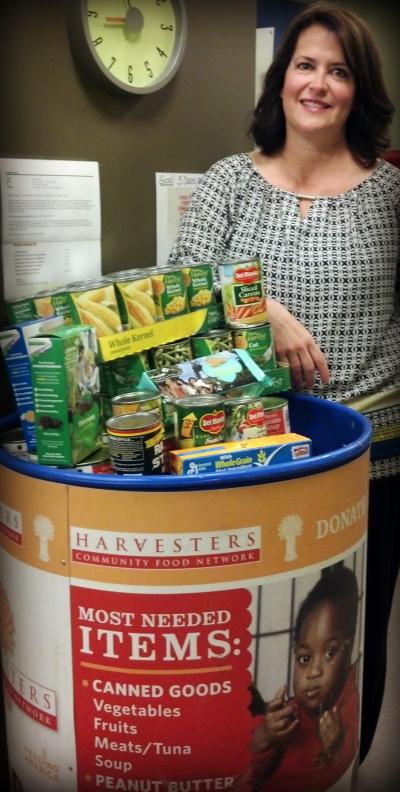 ProPharma Group is proud to call the Kansas City metropolitan area home, and is dedicated to the fight against hunger in our community. Did you know in Johnson County, Kansas alone, nearly 12% of the population does not have a consistent supply of food? Or that more than 16% of the children in Johnson County don't have a secure provider of meals?
ProPharma Group is helping fight hunger in our area by sponsoring a "Take Your Can to Work" food drive this month with Harvesters Community Food Network. Harvesters is the area's only food bank and distributes nearly 3,727,800 pounds of food each month! ProPharma Group is contributing by challenging colleagues to take the "Five Can Pledge" and provide at least five non-perishable items for the food drive. So far the event has been a huge success! We want to thank all of our colleagues for participating, and for helping provide Harvesters with essential resources to continue distributing meals to people in need.
Food is one of the most basic human needs, yet many don't know where their next meal is coming from. They are children, the elderly, the disabled, the unemployed and the working in our community — perhaps even in our own neighborhood. Harvesters' mission is to feed hungry people today, and fight to end hunger tomorrow. With the help of donations and volunteers, the Harvesters agency is able to provide meals to struggling individuals and families every day. "Donating a can of food seems like a small thing to the average person," a Harvesters member said. "But when you're a parent looking at your children's faces and the empty cabinets, it's actually a major thing."
There are many ways you can get involved with Harvesters, or your local food bank, to help end hunger in your area. Work to raise awareness about hunger in your hometown, and help by contributing non-perishable items at a local food drive or drop-off facility, offer your time by volunteering at a nearby soup kitchen, or donate money to support your community food bank. For more information on each of the ways to help, or for information about Harvesters, please visit their website and take action to help end hunger.