Our "Meet the Expert" series introduces you to our team of experts around the world. This "behind the curtain" view will help you get to know who we are on a professional and personal level, and highlight how our colleagues work together on our higher purpose to improve patient health and safety throughout the complete product lifecycle.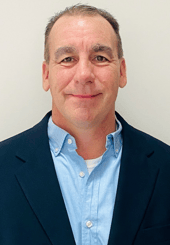 Meet the Expert: Marshall Scicchitano, Vice President, Nonclinical/Emerging Therapies
What do you do at ProPharma Group?
Part of what I do is to develop nonclinical regulatory strategies for clients, which often requires recommending the conduct of future nonclinical studies along the proper timing of these studies in relation to regulatory and clinical milestones. It is the development and implementation of these successful and innovative regulatory strategies that maximizes the client's successful regulatory interactions. I support various therapeutic areas and numerous therapeutic modalities, including but not limited to, small molecules, biologics, vaccines, antisense oligonucleotides and cell/gene therapy products.
I possess the combination of experience in both discovery and regulatory toxicology which includes a solid understanding of how nonclinical/toxicology data can assist early projects choose safer molecules earlier to potentially reduce the likelihood of late-stage attrition. Nonclinical studies are typically the first studies that are conducted by clients and data from these studies are used to support clinical safety and efficacy. It is important to present the nonclinical data appropriately to regulatory agencies, and I author nonclinical sections of regulatory documents supporting regulatory meetings and submissions (e.g, INTERACT, pre-IND, IND, EoP2, NDA/BLA). I also have a very strong scientific background and solid understanding of the methods used in exploratory/mechanistic/investigative/biomarker studies to help clients as drug development proceeds and regulatory feedback is obtained.
What do you like best about working with clients?
I enjoy having the opportunity to work on so many different types of therapeutic modalities across numerous therapeutic areas and having the opportunity to guide clients through the nonclinical regulatory expectations supporting their exciting and cutting-edge therapies.
The clients are the experts with regards to their therapeutics, and it requires a deep understanding of the mechanism of action, disease indication and the most efficient way forward towards their development goals, always keeping in mind what will be expected by the FDA at each stage of development. I enjoy learning about the numerous therapeutic modalities and the client's cutting-edge ways of modulating specific disease targets to potentially bring exciting new molecules forward for diseases which often are considered "first in class" therapies. I enjoy guiding clients through the regulatory process and explaining the FDA's nonclinical expectations of what studies will be required and why they will be expected. I enjoy having the opportunity to review the client's nonclinical data, identifying the strengths and potential gaps, which often requires additional nonclinical studies, along with the best way to leverage their data to support future FDA meetings and company milestones. All of this increases the client's chance of success moving forward in clinical development.
Being able to assist clients at both an early stage and later in clinical development requires a solid understanding of what the different regulatory expectations will be. Having the opportunity to leverage my nonclinical background and experience across the whole drug development timeline and potentially bring much needed therapies to patients is very rewarding.
What is a current trend you're seeing impact the industry?
The current industry trend I have seen is moving away from small molecules as a way to modulate disease targets and am now seeing more new and emerging therapeutic modalities to treat various diseases. Some examples of these emerging therapies include, antisense oligonucleotides, RNAi, siRNA, aptamers, antibody drug conjugates, cell and gene therapies and protein degraders. Having a solid understanding of the regulatory expectations for these new therapies is key and ProPharma Group has the expertise to assist clients throughout their drug development pathway.
Tell us a little bit about yourself outside of work.
I am married and have 3 daughters; one is a junior in college, one is a senior in college, and one just graduated college and recently started in her first job. Although we do not get to see them as much as we used to, we get together as often as possible and still try to do fun things such as vacations, dinners, and visiting close family. When not working or spending time with my family, I enjoy golfing and doing anything outdoors.
How do you support ProPharma Group's mission and higher purpose of improving the health and safety of patients?
I help clients advance their therapies. I provide key nonclinical expertise and insight to clients to ensure their regulatory interactions are productive . Doing this provides clients the best chance of success advancing their therapies through clinical development and bringing safer medicines to patients sooner.
What's one thing you wish potential clients knew about ProPharma Group?
That ProPharma Group is a single-source provider for clients. We can assist clients very early in the drug development timeline at the time programs are in the discovery phase all the way through postmarketing. From a nonclinical perspective, we can provide support in assisting selection of a lead candidate by reviewing data and providing early discovery toxicology insight to assist is selecting safer molecules that will have a better chance of success and potentially reduce later stage attrition. This early-stage nonclinical support along with support from Regulatory Sciences, and as development proceeds, additional support from Clinical Research Solutions, Pharmacovigilance, and Medical Information, is what really makes ProPharma Group stand out as a leader in drug/device development.