Our "Meet the Expert" series introduces you to our team of experts around the world. This "behind the curtain" view will help you get to know who we are on a professional and personal level, and highlight how our colleagues work together on our higher purpose to improve patient health and safety throughout the complete product lifecycle.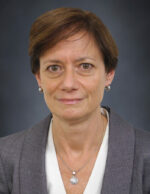 Meet the Expert: Carrie Rabe, Ph.D., VP Nonclinical Regulatory
What do you do at ProPharma Group?
My work is incredibly varied but can generally be considered to be nonclinical strategic and regulatory support for companies who have drugs, biologics, or medical devices that they are hoping to market in the US. One aspect of this support is providing advice on nonclinical requirements for advancing a product through clinical trials and eventual marketing. Once a product has shown evidence of efficacy in the lab, there is a large complement of nonclinical evidence that needs to be provided to assure regulatory authorities that a product is safe for clinical trial participants and ultimately the general patient population for whom the product is indicated. I provide advice on which studies need to be conducted and the optimal timing for those studies. Often I find that some studies can be avoided entirely based on pre-existing data.
When studies have been completed, I assist in the review of reports and in preparing regulatory submissions based on the accumulated data. When data exists in the public domain that companies can rely on, I prepare white papers that describe how that information and be integrated with the Sponsor's own data to support the safety of a product that sponsors can submit to regulators.
What is one lesson you've learned in this industry that has most helped you?
We do our best work for the client when we take the time to understand more than just the nonclinical aspects of a development program. Information on clinical results, product chemistry, precedent products, and class effects all contribute to providing a client with the best scientific arguments to persuade regulators that a product is well-understood and safe.
What do you like best about working with clients?
The ingenuity that they bring to their projects. No single project is ever the same as any other, and I see new ideas on therapeutic approaches every day. Whether it is a new therapeutic moiety, new dosage form, or a novel approach to addressing a disease, each client brings something new to learn about. Being able to contribute to the success of those projects is certainly gratifying.
What's your number one goal right now?
Helping our clients get it right the first time. There is always more than one way of doing things, and I try to help them understand the pros and cons of any approach to nonclinical development and steer them to what looks to be the most advantageous.
How do you support ProPharma Group's mission and higher purpose of improving the health and safety of patients?
I assist in bringing new drugs to market. As a trusted member of our client's team, we use our scientific knowledge and understanding of FDA regulatory requirements to assist drug sponsors in best advocating for themselves with FDA regulatory scientists.
In your opinion, what value does a client gain by working with ProPharma Group's Regulatory Affairs experts?
Access to a group of individuals with a broad range of scientific and regulatory expertise, each of whom has a deep understanding of regulatory requirements and, more importantly, what regulators want to know, why they want to know it, and how best to communicate that information to them.
To connect with Carrie and our complete team of experts, contact us today!