We live in a world of data: there's more of it than ever before, in a ceaselessly expanding array of forms and locations. Besides this, most people in their organizations are not always aware of data quality chain from data intake towards final product launch. Maintaining good data integrity (DI) is about more than just compliance with regulations. For example, in life science manufacturing applications, a significant amount of research, development, samples, or donated tissue has been invested. The manufacturing applications can only prove their quality if the invested data is traceable, trustworthy, and properly secured.
In this article you will learn also why it is important to focus on mitigating data integrity risks and how to measure the level of data integrity maturity, which can dictate flaws and pitfalls in your data governance. Dealing with data quality systems and their data integrity concerns involved, is a way for data stakeholders to tackle the challenges of this new world of increasing data. Improved data quality is helping companies make smarter decisions, increase efficiencies, and shorten lead times of product launches.
Increasing Focus on Data Integrity Risks: Why You Should Measure DI Quality Regularly
Patients who had little room for hope in the past are gaining new optimism. Data is being used to bring novel therapies and personalized drugs to the market, delivering crucial treatments for patients in need. Data processed and accrued in a complete, consistent, and accurate manner from manufacturing processes will lead to the right distribution of information to end users and patients.
Trustworthiness of data, and therefore a need to ensure data integrity, has never been more prevalent as seen in warning letters given by the FDA over the last seven years. At the same time, drug developments have never been faster, leading to an expanding array of data volumes. Improving data quality helps companies make "first time right" decisions and accelerate product launches, therefore supporting financial growth and product success.
As in all other aspects of regulated industry applications, securing your data to ensure patient safety requires effective business processes and trustworthy systems, and should be handled with care.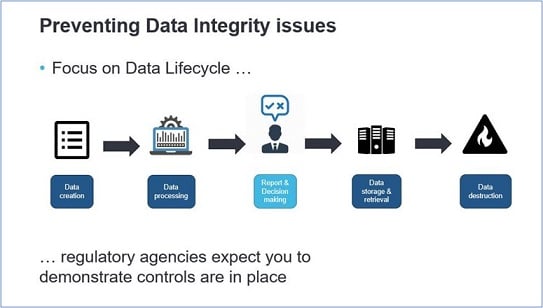 As a data stakeholder you know how important the whole host of data aspects and data management is. Maintaining a high level of data lifecycle quality ensures the insights your end-users generate and can help them to make smarter, data-driven decisions, as well as provides better information to customer-facing apps. By now, data integrity is a growing focus of regulatory agencies and it is therefore critical for organizations to ensure compliance with applicable data integrity regulations governing the production of pharmaceutical drugs.
Introducing DIMS, a Data Integrity Maturity Survey to Ensure Quality of Data
Data integrity issues could occur at the beginning of the data lifecycle, as early as data creation, by not writing the correct requirements according to 21 CFR Parts 11, 210, and 211. If these requirements are lacking or poorly interpreted, technical data controls for e.g. data access authorization and audit trail management will not be correctly applied. But it is about more than only technical controls, behavioral and procedural controls are also needed to prevent data integrity issues.
Now, along with the best practices for managing compliancy through Computerized System Validation, ProPharma Group has developed an essential, compact survey tool that provides insights for measuring the maturity of your data integrity based on up-to-date focus areas of the current regulatory expectations for practices that ensure data integrity.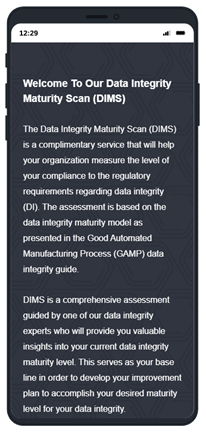 The Data Integrity Maturity Scan (DIMS) from ProPharma Group is a service that will help your organization measure the level of compliance to regulatory requirements regarding data integrity.
DIMS serves as a baseline in order to develop an improvement plan to accomplish your desired maturity level for DI compliance and mitigate business risks associated to Data Integrity. The level of maturity is directly linked to DI risks and therefore, the risks for incorrect decision-making affect manufacturing processes and product launches.
DIMS is based on the data integrity maturity model as presented in the Good Automated Manufacturing Process (GAMP) Data Integrity and Records Guide.
How strong are your data integrity foundations? Find out with the new Data Integrity Maturity Survey (DIMS) from ProPharma Group.
Ensure Data Integrity with DIMS
To identify any data vulnerabilities and measure your DI maturity level, our data integrity specialists have been establishing maturity areas for DIMS, which are the most essential dimensions of attention to improve:
Strategic Planning and Data Integrity Program
Data Lifecycle
Governance and Organization
Regulatory and "Regulatory Culture"
The Data Integrity Maturity Scan is based on these pillars and form the foundation to build your Data Governance strategy for implementation of improvements. Based on additional technical interviews with data team members and/or related stakeholders of your organization, our data integrity specialists can provide support to develop an implementation plan for your Data Governance improvements. Next, implementing recommendations from the assessment provides a number of important benefits for your organization:
Strengthens Your Organization's Data Integrity Focus: Helps reinforce the fact that your organization is committed to data integrity compliance for all company employees.
Provides Peace of Mind: You know that your data integrity issues have been identified and are being addressed.
Reduces Costs: The cost of remediating data integrity issues identified by regulatory agencies (FDA) is generally much more significant than when the issues are proactively identified and corrected internally.
Stay Focused on Your Core Business: Proactively identifying and correcting data integrity issues allows your organization to spend less time on compliance issues so you can stay focused on your core business.

ProPharma Group has an experienced team of knowledgeable experts that bring together technical, strategic, regulatory, and content knowledge to provide the most effective solutions to problems faced by both pharmaceutical and medical device manufacturing organizations.