Reflecting on 2020, we have become accustomed to the global shift into a world of virtual, remote, restricted, and paused. One no longer flinches when hearing that something has been modified, skipped, or postponed because of COVID-19. While the FDA has provided some latitude in enforcement for non-critical batch manufacturing, it is important to be aware that requirements such as self-check and monitoring oversight of critical vendors (see FDA Guidance to Industry - Resuming Normal Drug and Biologics Manufacturing Operations During the COVID-19 Public Health Emergency, September, 2020), have not changed.
Drug manufacturers, sponsors, and service providers are still responsible for ensuring that Current Good Manufacturing Practices (cGMP) and Quality Management System procedural requirements are met during the manufacturing, testing, release, and distribution of drugs. Regulator's expectations remain high for ensuring that drugs meet quality and efficacy standards, and that supporting vendor and service providers are operating within a state of compliance.
It has obviously been a challenge for all companies involved in drug manufacturing to continue producing a high-quality product while dealing with fallout from the pandemic, such as reduced staff, supply chain issues, transportation/logistics delays, etc. As a result of these new challenges, how many observations may be hiding in your Quality System?
ProPharma Group has been actively conducting in-person and virtual audits throughout the pandemic on behalf of our clients around the world. Reflecting on our audit data and compiling our observation metrics, we have noticed that most sponsors and vendors have worked to overcome these challenges and remained diligent to GMP compliance. However, even with their diligence, they still may have potential issues, or observations lurking in their Quality Systems that could be found during an inspection.
Identifying and Remediating Observations
During the audit process, observations represent a problem, divergence, or gap in a Quality System that can potentially lead to patient or product harm, regulatory action, or product recall, not to mention the potential financial cost to an organization.
We reviewed the number of observations or issues we found on average during each site audit this year to calculate how many minor observations we were able to detect and identify before they escalated into major or critical issues for our clients.
For GMP observation severity categorization, ProPharma Group used the following industry standard definitions:
Critical – Violations from regulation or SOP posing a significant risk to the safety, quality, or efficacy of distributed or held products or materials. Requires immediate attention and should be addressed prior to performing processing.
Major – Violations from regulation or SOP posing a potential risk to product/material quality, or multiple violations of GMP requirements, that may be indicative of a system failure. CAPA should address promptly.
Minor – Minor departures from regulations or SOP. CAPA should address in a timely manner.
Recommendation – Recommendations not necessarily associated with a specific observation. They are generally provided for quality improvement but may be considered as a potential for deficiency if the system involved is not evaluated.
Compiling the 2020 observation data, the averages per audit conducted by ProPharma Group are illustrated in Figure 1, below.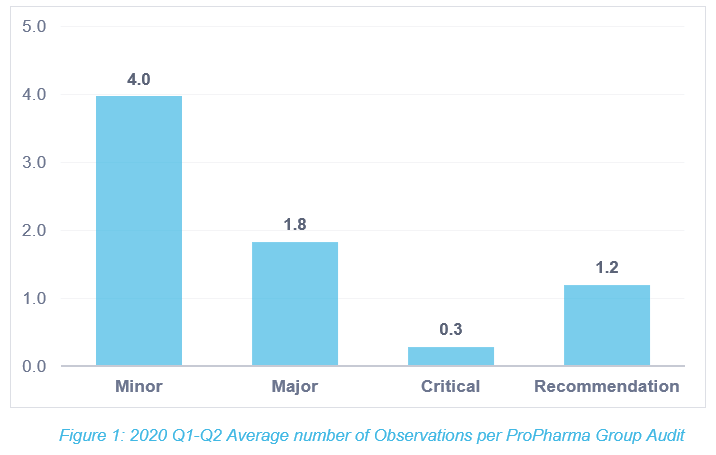 The observation data shown in Figure 1 depicts that for each GxP audit we conduct, our auditors identify an average of 4 Minor and 2 Major observations, with a rate of citing a Critical observation every third audit.
By staying up to date with your auditing schedule, even during a pandemic, you can quickly identify and remediate any minor issues hiding in your Quality System. Identifying such issues early decreases the likelihood of those escalating to undetected critical or major observations and reduce the risk of more costly remediation down the road.
Stay Ahead of Potential Issues with ProPharma Group
Pandemic or not, it is your responsibility to maintain your regulatory commitments and ensure no issues are hiding in your GMP Quality System.
In an effort to maintain your year-end responsibilities, our compliance experts can challenge your Quality System to find opportunities for improvement before they grow into larger problems that require costly remediation.
Our team of specialists includes former EMA and FDA inspectors and CQA certified auditors experienced in identifying observations and creating action plans to mitigate noted deficiencies. We offer both on-site and remote auditing services to ensure you stay compliant and inspection-ready at any given time.