6 Unique Challenges Hindering Oncology Clinical Trials
The research for cancer treatment is moving forward at a rapid pace. We're witnessing a shift from chemotherapy protocols to MTAs (molecularly targeted agents) for immunotherapies in particular. Despite the promising advances and the positive results of such products currently on the market, many oncology clinical trials fail, often at the early stages.
A rather comprehensive 10-year study reports that only 5.1% of new cancer drugs tested in Phase I are likely to receive FDA approval. The success rate from Phase I to Phase II reaches 63%, only to drop to 25% from Phase II to Phase III. Worst news yet, the LOA (likelihood of approval) for solid tumor programs is only 4.1%, versus 8.1% for hematologic programs.
Beyond the significant cost of developing and marketing a new cancer drug (estimated to cost around $2.8 billion as of 2020) ), pharmaceuticals and biotech companies that seek success in oncology clinical trials, and ultimately a green light from the FDA, face a set of unique challenges that are often impossible to overcome without bringing in outside competences.
Let's look deeper at the unique challenges hindering oncology clinical trials here.
Challenges in Oncology Clinical Trials
1. Absence of Scientific Knowledge
Due to their nature, new therapies have yet to reveal the full extent of their power (or lack thereof) across a wide range of human factors, making it difficult to derive probabilities on safety and efficacy. This lack of preclinical data and post-marketing reports confers a somewhat hit-or-miss characteristic to oncology clinical trials, which can dramatically drive the cost of the program up and increase the risk of failure in Phase III.
While the positive or negative effects of chemotherapy treatments are typically observed during active treatment, it can take years to establish the effectiveness and toxicity levels of MTAs. This in itself can have an important impact on recruitment, as patients may be reluctant to enroll in a program that bears too much uncertainty and not enough data. We'll discuss this challenge in more detail later in this article.
2. Hurried Process
Marketing a new cancer drug is a time-sensitive matter. After years of research, a company's goal is to reach its target population within the shortest possible period. The sense of urgency can put a strain on teams and lead to misses that stem from insufficiently staffed programs.
As a Functional Service Provider, ProPharma Group puts you closer to a position of success. With over 45,000 clinical consultants in our network, we can enrich and augment your team with the professionals you need at any stage of your oncology clinical trials. You can tap into:
A scalable network of professionals

Global clinical trial support

Pharmaceutical, biotech and medical device industry expertise

Extensive experience in oncology, immuno-oncology, CNS and rare diseases
3. Missteps in Study Design
Efficiently mapping and planning the design of a clinical trial is crucial in any given space. There are many steps to carefully consider and include to ensure the objectives are met, such as demonstrating safety and efficacy of the product.
In his article The Brave New World of clinical cancer research: Adaptive biomarker‐driven trials integrating clinical practice with clinical research, cancer statistician Dr. Donald Barry states:
"Traditional clinical trials are straightforward and purposely simple […] The problem is that cancer is many, many diseases. Our erstwhile taxonomy by organ of origin may have hindered progress as much as it helped."
The widely-adopted linear approach to clinical development shows obvious limitations where oncology clinical trials are concerned, mostly due to the heterogeneity and temporality of the disease.
With over 20 years of experience in clinical development, ProPharma Group is your partner of choice for Project Management. Our seasoned teams will help you assess, implement and control every aspect of your study so each phase is a success all the way to market. These stages include:
Identification of the proper pathways

Definition of eligibility enrollment criteria

Evaluation and feasibility assessment of patients' engagement

Proper timing of doses escalation and safety risk management

Determination of valid end-points and checkpoints

Observation and recommendations regarding possible combination therapies

Assessment of need for mid-trial adaptive measures
4. Recruitment Obstacles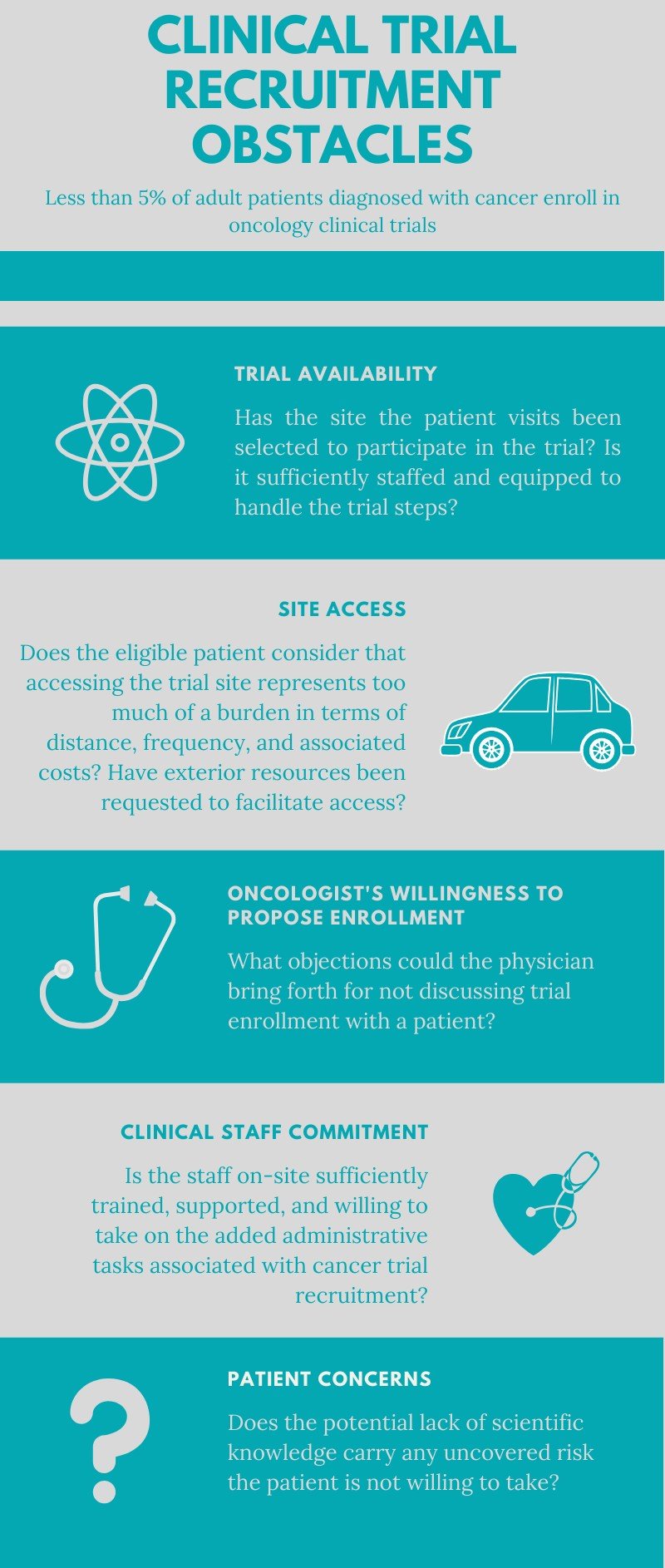 The success of oncology clinical trials depends on the level of engagement of its participants, oncologists, clinical staff, and patients from the very first phase. Unfortunately, many roadblocks arise within these groups for both logistical and psychological reasons. As a consequence, less than 5% of adult patients diagnosed with cancer enroll in oncology clinical trials. This is due to a number of factors, including the following:
1. Trial availability
Has the site the patient visits been selected to participate in the trial? Is it sufficiently staffed and equipped to handle the trial steps?
2. Site access
Does the eligible patient consider that accessing the trial site represents too much of a burden in terms of distance, frequency, and associated costs? Have exterior resources been requested to facilitate access?
3. Oncologist's willingness to propose enrollment
What objections could the physician bring forth for not discussing trial enrollment with a patient?
4. Clinical staff commitment
Is the staff on-site sufficiently trained, supported, and willing to take on the added administrative tasks associated with oncology trial recruitment?
5. Patient's concerns
Is the eligible patient feeling fear and discomfort at the thought of taking part in the unknown? Does the potential lack of scientific knowledge carry any uncovered risk the patient is not willing to take?
Since the stakes are high for biopharmaceuticals introducing their product into trial phase, any delay represents a costly setback. As investigators, it is your role to ensure wide adhesion to the cancer program, not only deploying complete staffing and protocol training, but also considering and addressing the human dimension of the project.
To help you reach a positive trial outcome, ProPharma Group offers Strategic Resourcing services to supplement your teams with professionals who can help you recruit patients for clinical trials.
To further increase your chances of success, our clinical operations team can help you
Establish a patient recruitment strategy

Identify risks inherent to oncology clinical trials

Mitigate those risks
5. (Mis)use of Statistics and Data
If your stats are irrelevant or don't carry scientific validation, they should not be used. At the very least, they will flaw the patient recruitment process and lead to missed opportunities for actually reaching the patients who could benefit the most from your new cancer therapy.
Reports and academic publications increasingly rely on statistics to confirm hypothesis. However, you must proceed with caution, especially if your team doesn't include biostatisticians. Professor of Epidemiology and Biostatistics Dr. Scott R. Evans lists the following in his article, Common statistical concerns in clinical trials:
Poor p-value interpretation

Need for confidence intervals

The intent-to-treat principle

Missing data

Multiplicity

Subgroup analyses

Association vs. causation

Reporting

Probability and Bayesian statistics

Clinician-statistician interaction and communication
The comprehensive data science services that ProPharma Group offers guarantee unquestionable clinical data management throughout the course of your oncology clinical trials, eliminating the risk of human errors, misinterpretation, and misuse.
6. Surrogate Endpoints vs Event Endpoints
Anti-cancer drugs aim to increase patients' overall survival (OS) or/and improve quality of life. The use of surrogate endpoints in oncology trials is not uncommon, due mostly to the fact that they can be measured sooner, while focusing on event endpoints often means a longer study. The other clear benefit is accelerated FDA approval.
Pharmaceuticals, however, should include surrogacy in trial phases with great care. Derived from extrapolation, surrogate endpoints may not be treated as true indicators of a drug's efficacy, especially if no further study can establish the strength of the surrogate-survival correlation.
In a 2017 publication, Kim & Prasad question the increased use of surrogate endpoints to accelerate approval of oncology drugs and advance that "Of 55 regulatory approvals made by the FDA on the basis of improvements in surrogates between 2009 and 2014, 65% (36) had no trial-level validation studies. Of the 35% (18) that were studied, only 16% (3) correlated highly with survival".
Get Expert Guidance from an Oncology CRO
After investing so many human and financial resources into research and development of a new cancer drug, you don't want to get caught in a debate or risk market withdrawal should your product prove not only inefficient, but also unsafe.
By assisting you in oncology clinical trial planning from start to finish, ProPharma Group contributes to removing uncertainty and over-use of weak surrogate endpoints through:
Custom study design strategy

Phase by phase data-backed selection of endpoints

Careful selection of surrogates validated by epidemiologic evidence

Advanced global data management

Confirmatory trials to demonstrate clinical benefits
The American Cancer Society reports that the year 2022 will close with nearly 1.9 million new cases diagnosed and 609,360 deaths in the United States. The hope for these patients and those previously diagnosed reside in the progress of targeted cancer therapies. The good news is organizations are actively researching and developing new drugs.
However, many things can go wrong at any stage, further delaying patients' chance to live longer. From poor choice of study design to execution barriers or insufficient mastery of data sciences, clinicians face unique challenges and oncology trials derail. Companies that actively participate in the quest to beat cancer have the responsibility to take all measures to execute successful oncology clincal trials and bring safe and efficient therapies to market.
Why tempt fate and risk failure like so many? Contact ProPharma Group for a no-obligation consultation.