When a Team Loses Their Leader and Lacks a Plan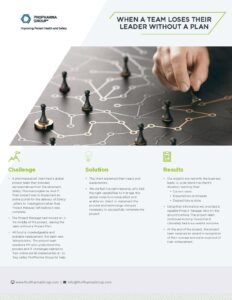 Projects spanning multiple functions across an organization can be difficult to execute and require the leadership of an experienced and organized project manager. But what happens if the project manager leaves in the middle of the project? Even worse, what if the project manager leaves mid-project and fails to leave a project plan? Unless you have a knowledgeable, organized, and available replacement to step in and take over, chances are pretty high that the team will fall behind. This is exactly the situation faced by one client that came to us looking for project management support to ensure their project continued making forward progress successfully.
Whether your situation is similar or completely different, we have the project management experts you need to keep your project moving forward. Learn how ProPharma Group's clinical research experts can help your team meet critical milestones, stay on schedule, and ultimately achieve successful outcomes.