Understanding Clinical Trial Requirements for Medical Device Label Extensions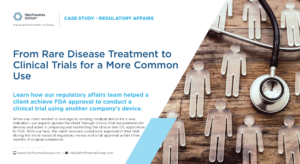 After you have developed an FDA-regulated product and obtained marketing approval, you may think your job is done. However, after all the time, effort, money, and so much more that goes into product development, doesn't it make sense to ensure it is available to help as many people as possible?
Learn how our experienced team of regulatory experts helped one client leverage an existing medical device for a new indication, guiding them through device-specific clinical trial requirements and assisting with all facets of submitting their Investigational Device Exemption (IDE) application to FDA.