Overworked Medical Device Teams Missing Deadlines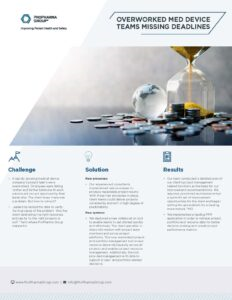 Is your company experiencing rapid growth? Is your team overworked and falling further and further behind? ProPharma Group's team can help. You may recognize that this is happening but not necessarily know how to solve the situation at hand.
Learn how ProPharma Group can help your team make necessary improvements by implementing project management-related functions. We have experience helping companies just like yours use portfolio and resource data to make more informed decisions, thus improving overall project performance metrics.