Lack of FDA Audit Findings Doesn't Necessarily Indicate Vendor Compliance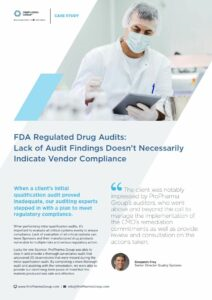 When performing initial qualification audits, it's important to evaluate all critical systems evenly to ensure compliance. Lack of evaluation of all critical systems can leave Sponsors and their manufactured drug products vulnerable to multiple risks and serious regulatory action.
Learn how ProPharma was able to step in and provide a thorough surveillance audit that uncovered 20 observations that were missed during the initial qualification audit.