Improving Product Quality During Technical Transfers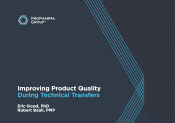 Is your product quality at risk during a tech transfer? Now, more than ever, companies are transferring products and processes from one site to another, often facing pressures on time, resources, and regulatory limitations.
Learn more about how ProPharma Group's proprietary process has proven to increase the speed to market while maintaining the highest levels of quality, regulatory compliance, and efficiency.