Good Science Presented Well Generates Approval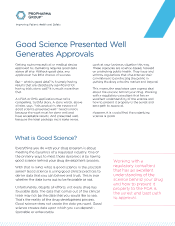 Without good data, any application has little chance of success. Working with a regulatory consultant that has an excellent understanding of the science and how to present it properly is the surest and best path to approval.
Obtaining marketing approval for a pharmaceutical, biotech, or medical device product requires good data first and foremost. Without this, any application, regardless of the specifics, has little chance of being successful.
What is good data? Is it simply having results that are statistically significant? Or having trials done well? It is much more than that and it all starts with having good science that is presented well in a way that makes sense to the regulatory agencies.
Are you curious about the following:
What is "good science"?
What is "bad science"?
How does good science that is presented well generate approvals?
How does working with an excellent regulatory consultant help achieve all of these things?
How can ProPharma help you succeed with the FDA and EMA/local national agencies?
We have the answers to these questions, plus so much more in our whitepaper. Download the whitepaper today and learn how you can employ our mantra
"good science presented well wins."