EU Medical Device Regulation PMO and Project Delivery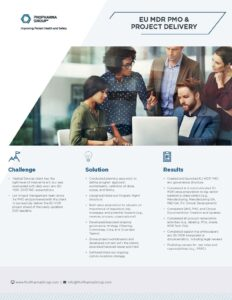 Regardless of your internal resources, it could be extremely taxing and unrealistic to expect your team to accomplish both their normal daily activities as well as the work necessary to ensure compliance with the new set of requirements per the EU Medical Device Regulation (MDR). Although both are critical to the success of your medical device, the strain of handling all aspects of EU MDR transition internally can cause avoidable mistakes and unnecessary delays in getting your product to market.
Find out how ProPharma Group can provide your medical device team with the project management support needed to ensure your product is compliant with all aspects of EU MDR requirements.