Early Phase Oncology Program in Patients with Solid Tumors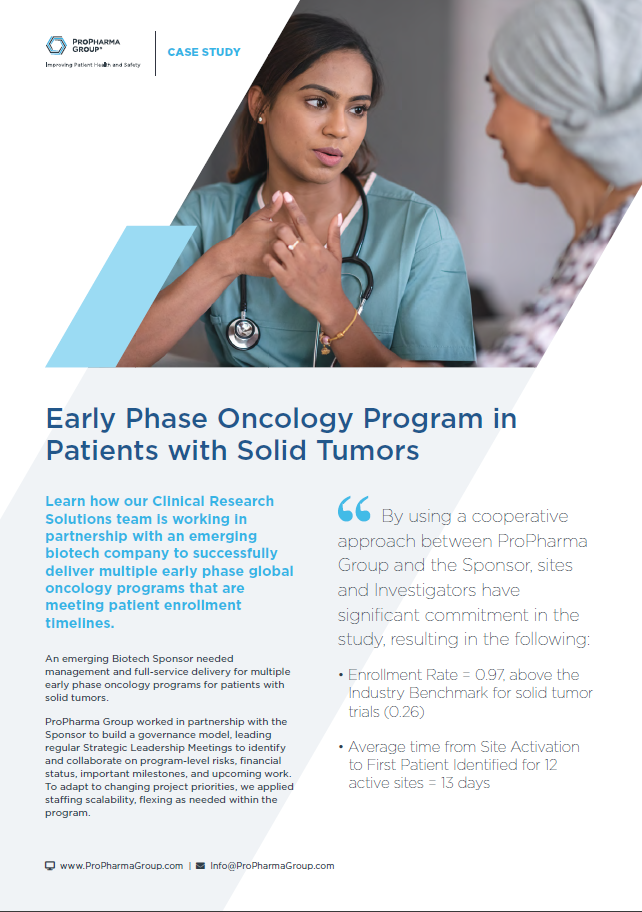 See how we helped an emerging Biotech Sponsor achieve an enrollment rate and average time to FPI that is well above industry benchmarks.
An emerging Biotech Sponsor needed management and full-service delivery for multiple early phase oncology programs for patients with solid tumors.
ProPharma worked in partnership with the Sponsor to build a governance model, leading regular Strategic Leadership Meetings to identify and collaborate on program-level risks, financial status, important milestones, and upcoming work. To adapt to changing project priorities, we applied staffing scalability, flexing as needed within the program.
Challenge
Multiple Parallel Cohort Modules
Multiple modules enrolling simultaneously requires complex management of open cohort slots, communication regarding potential patients across sites, IP availability at sites, and accurate enrollment planning.
Managing Enrollment
Rapid enrollment requires robust enrollment tracking and open communication with sites regarding open slots and potential patients and utilization of enrollment tracking tools, IVRS and EDC reporting.
Source Data Verification
Rapid enrollment at a small number of sites causes a large amount of required source data verification. Our team worked with sites to allow extra monitoring allowance including co-monitoring.
Some sites requested data entry support due to staffing issues, which were obtained and provided via vendor staffing through a sister company.
Solution
Team Program Allocation
The ProPharma team, including Project Directors, Project Managers, Clinical Leads, SSU Leads and Clinical Trial associates, is fully allocated to this program and does not work on studies for other sponsors while assigned to this particular program.
This allows for knowledge accumulation and lessons learned sharing between project teams within the program without being overwhelmed by projects from multiple sponsors as is common at
larger CROs.
Site Recruitment Plan
Sites were utilized across multiple studies for familiarity. In order to not over-saturate sites with newer studies, a more geographic feasibility plan was implemented to reach out to newer sites.
Site feasibility to select sites with Solid Tumor experience, adequate staff and facilities, capacity with competing studies, appropriate testing capabilities.
Program Management
Our team ensures consistency in study processes and plans across projects. We instituted key project indicators to track key metrics monthly.
A governance structure was established to strategically resolve issues and plan for future activities.
Results
Study 1: Phase 1/2a Study of the Safety, Pharmacokinetics, Pharmacodynamics (Q4 2019. Status – Enrolling)
As of the end of December 2021, 125 patients are enrolled, 10 sites are active across Canada, the Netherlands, USA, and UK.
By using a cooperative approach between ProPharma, the sponsor's Clinical Lead, and Medical Monitor to ensure site engagement, sites and Investigators have significant commitment to the study, resulting in the following:
1.) Enrollment Rate = 0.97, above the Industry Benchmark for solid tumor trials (0.26).
2.) Average time from Site Activation to First Patient Identified for 12 active sites = 13 days. The site with the longest duration was 38 days. This is extraordinary consistency and engagement across sites.
Study 2: Phase 1 Study of the Safety, Pharmacokinetics, Pharmacodynamics (Q4 2019. Status – Enrolling)
First site active and first patient enrolled in Q2 2021 as projected.
As of the end of December 2021, 10 active patients and 8 sites are
active.
Study 3: Phase 1 Study of Advanced Solid Tumors (Q2 2021. Status – Enrolling)
First site active and first patient enrolled in Q3 2021 as projected.
Study 4: Phase 1 Study of Advanced Solid Tumors
First site active and first patient screened in Q4 2021 as projected
Do you have an upcoming oncology trial? We'd love to partner with you and help you achieve these kinds of results too. Contact us today to connect with a member of our CRO team.